Hola! I'm back!!! Been away from this blogging world for nearly 3 weeks!!! Man that's long and my blog died =.= Ok now it's risen! I've been busy preparing myself for my final exam. Yes! The final one!!! I'm still keeping my fingers crossed hoping to pass all 3 papers so that I can graduate on time =) Pray for me ok? Hehehe~
I really hope I can pass this time's exam. I don't wana resit for any paper and don't wana repeat the whole thing. I need this cert! I don't wana be disappointed by myself again =( Result will be out after 2-3 months which will be around August.
Updates: I have 2 trips coming in during September and February/March!!! Can't wait!!! Hehehe =)
Bad update: I just lost my Nikon usb cable =(( Couldn't find it anywhere in the house!! Even mom helped me search for it but just can't find it. *sobs~* Now I have to buy a new one and it's not cheap ok! Ugh! Broke!
Yesterday, I felt a little awkward at office after 10days of leave. Took my leave since previous Friday until Tuesday. Ho ho ho! Somehow my brain doesn't function that well after 10days =.='''
So, why coffee at work? =P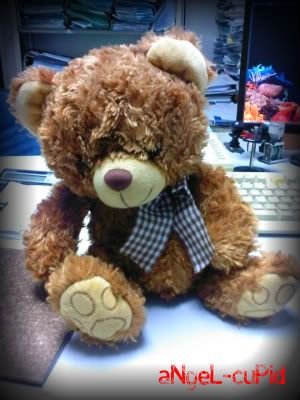 Because I brought my Coffee to work!!! Hehehehe =D I've been wanting to bring my toys to work =P And so I decided to bring Coffee over yesterday cos I felt that I needed it to be there. More comfort!!!
I stuffed Coffee into my handbag. Hahaha! It fits perfectly well!!! Maybe I should consider bringing it with me everyday =D
Alright that's all for current updates. Will try to update my blog as often as possible now that I'm so free. No longer attending classes at night. Hehehe =) But I still need my cable first =( Will have to shop for it this weekend. Haizzzz......