3rd Trip Down KL
Yes I've been travelling alot, I know. But hey it's fun! Ok maybe not the money part but yeah it's fun to travel =) Last weekend I flew off to KL again. This time, I went solo. Reason? Well first cos I'm single now and second I was there for a job interview. Which I failed.
Anyway, before I start,
I gotta thank Adeline and Ignatius so sO SO MUCH!!!
Adeline let me stayed at her place and Iggy was there to bring me around. I really owe them two alot!
Thanks guys!
Love you two to the max! Hehe =)
When I touched down, I wanted to take the bus to 1U but the bus actually left at 4pm and not 4.30pm which was listed at the website. Mark this down guys.
Skybus to 1U left at 4PM SHARP!!!
So I missed the bus just by 15 mins. Sigh.....End up I took bus down KL Sentral and Iggy had to go through all the horrible jam along Sprint Highway just to pick me up at 6pm. Imagine that. Man thanks much! Really appreciate!
Then we went straight to dinner cos I wanted to stay in for the night and rehearse for next day's interview. Nervousness started to hit me the minute I board the plane from Kuching. Iggy brought me to SS2 for the famous Kam Heong Chicken stall. It was a really nice catch up with him. It's been months since I last saw him and we haven't talk like years! Like really sit down and talk.
Gawd I miss Form2!!!
Sunrise from Adeline's condo. That was about 5 or was it 6am. Or was it 4.30am? I couldn't remember though.
So what was my interview about? Well, I actually took my first step out and went straight to the toughest company,
Singapore Airlines.
=) I'm glad I did even though I failed. I got my experience there. Met a few new friends. And I sure know well that I wasn't prepared for that sort of interview. I was darn nervous when I saw the many hopefuls standing there hoping to secure their pass to the bright future. Hmm....If you ask me now, I'm not sure if that's the job that I
REALLY
wanted to do. Seriously? I questioned myself on the spot. Maybe that's why I flunk.
The interview was from 9am to 2pm. Mine ended roughly at 10.30am. It's simple though. We went into the room in a group of 10. Sat down in front of 2 interviewers. One by one stood up to introduce ourselves and answer a question given by them. When I thought I'd had all my questions ready, I will hell never expect them to ask this.
What fruit will you introduce in Malaysia?
Or something like that. All I hear is fruit!
Like FGS FRUIT?!?!?!
You've got to be kidding me! I got nervous thinking for my last minute answer and therefore didn't present myself well. Sigh.....
After that we all came out and sat down. Then a guy came out from that room holding a piece of paper. He said
"Ok there's 3 names here. If I call out your name, you stay for Round 2. If not, thank you for coming".
Nope my name was not being called out. So I left.....
I was no longer in the mood to shop although Sg Wang is just opposite Park Royal. So I took Monorail with 2 new friends and then we switch to LRT but they left for the other way while I went back to my area.
Epic moments happened. Iggy woke up early that morning to send me to Park Royal Hotel and then he went home to sleep. He's not a morning person.
I'm so grateful that he actually made this early wake for me.
But the thing is, he slept until he didn't hear his phone ringing for thousands of times! By the time I reached my destination, he still have yet to answer my call!!! So I actually waited at the station for like, er....half an hour? I think or was it more. Haha! I called almost everyone I know for help but no one seem to pick up my calls. Only Soul did but he wasn't driving and he was really busy that time. Gah! So what to do? Keep calling until Iggy actually picked up =.= Ok ok I should be really thankful that it didn't take him hours to answer his phone.
So after he picked me up, it's the Hennessy Artistry pass's story. Like I said I nearly missed collecting my free pass if it wasn't for Iggy's faithful iPhone.
My stingyness can really cost my life.
Maybe it's time for me to get an internet plan for my HTC. Luckily I check Facebook on time and managed to secure my pass with Jason. Phew~ Thanks man!
REALLY THANKS!!!
Since I got my pass, it's time to arrange for transport.
My only hope: Soul.
But he had wedding dinner at that night! I was thinking that ok I can send him to the dinner place and then tapao to eat at home then pick him up at 10pm and go to MIECC. But then he came up with a better solution. Here I wanna say
THANKS SAM!
Soul got his friend Sam to pick me up, went for dinner, picked Jing Yan and then head straight to MIECC just on time!
Stories on my party at Hennessy Artistry? Read here:
HA 2011
We partied until 3am and Soul sent me back home. Good friend I've got there although he could have just ask Sam to send me back cos Sam's place is just 3 mins away from mine.
You know, you gotta appreciate friends who made the effort just to make you feel comfortable =)
Ok so I slept near 4am and woke up at 8am. I felt like shit. What the hell happened to my sleep life? I woke up and played with twitter for an hour on bed. Then I decided to call Sam out for breakfast. But then epic moments happened again. This dude got the whole world worried about him!
Story goes: At 9.30am I sent Sam a sms. He didn't reply. So I continued tweeting and facebooking for another half hour. Stomach growling already so I called Sam to wake him up. But heck!
The Digi operator told me that the number is not in service!!!
I dialled a few more times. Checked his number. Was starting to think what went wrong. So immediately I called Soul up and told him about it. Minutes later he called back and said couldn't get through either. Then I thought why can't I just go over and see if everything's fine. I could either call Iggy or just walk there cos it's just so near. But Soul forgot his block number =.= So gg. And then he said he'll call up another friend and check first. So I rushed to shower and got ready to go over already until Soul called back and said Sam is fine at home sleeping soundly =.=''' How swt is that. Apparently the story Soul got was Sam fell asleep in his car and his phone was robbed. So ok fine. I had to settle my own breakfast at home while thinking how unlucky Sam could get cos his car just got broke in the day before. And now his phone? That's alot of cost there.
True story:
Sam wasn't robbed. He actually fell asleep inside his car at MIECC until 6am then he drove home. His phone fell off his hand and somehow 'rolled' under his car seat and he thought it's lost. So he had a friend to call up Digi Centre and barred his line =.= Smart arse!
So the faithful mee goreng from Brunei became my brunch. Then I fell asleep afterwards until 3pm that Iggy msg me and asked if I'm fine. He just woke up =.= Well since Soul said he's gonna find me after 3pm so I told Iggy that I'll be going out and he doesn't need to worry about me. But what I never learn is guy's timing. That 3pm became 5pm. I starved myself to nearly able to swallow a cow. There's food in fridge alright. But they're expired. Except for the ice-cream. Haha!
Finally Soul reached my place at about 5pm with Sam and we went to Midvalley.
Weeeeeeeee~
I'm happy for many reasons. First, I haven't been to Midvalley for years! Second,
I GET TO EAT!
Like finally =.= And third? I don't know. Too hungry to think more.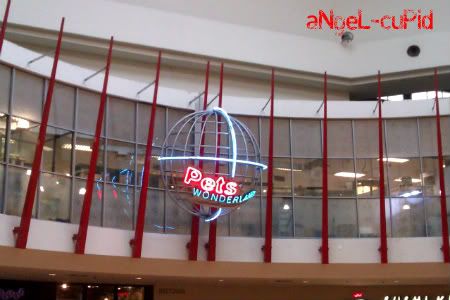 I'm back at Midvalley! I think the last time I was there was erm.......5 years ago? Or was it when I was in Form 3? Man it's seriously ages ago! My only memory of Midvalley is the jigsaw puzzle store. But hell they're expensive! I can buy 2 puzzles from the jigsaw puzzle store at Pyramid at the price of 1 set here. Do you seriously need to put that price???
Ohhhhhh!
We walked to Gardens! My first time there but ah, seems normal. It's like another Pavilion to me. All branded stuff.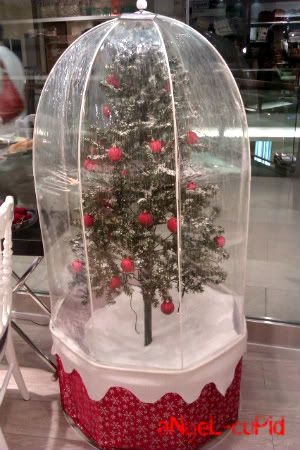 This is from I Wanna Go Home shop. No I don't wanna go home at that time. I just wanna stay longer at KL. They're putting up Christmas decors already. This one actually blows the mini white snowballs so it looks like snowing. Hehe =)
LOVE CHRISTMAS MUCH!
Later we went to pick another friend, Li San and had our dinner at Kuchai Lama mamak stall.
Barbecued mutton. Yum!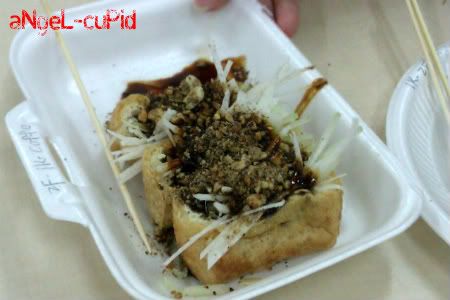 And this is tofu stuffed with vege and have something like rojak's paste on it. Nice!
I would say this trip is a bitter sweet experience for me. Bitter for the failure and disappointments cos I hassle people too much. Sweet? Oh don't mention that =) Now I'm thinking of celebrating NYE at KL but the ticket is gonna cost me alot. Thinking twice and thrice cos I'm really broke already. Haha!
Til I fly again~