Just to update what I've been missing. Been slacking around way too much. Tried to busy myself with accounts yet I'm still so free at office that I got to sleep all I want and play all I want. Dang I need more work! Anyone has anything that I can bring to my office and do? Which doesn't require internet connection? Do let me know so I can have extra income =D
Labour day. A day every employee rejoice! Normally I would just stay home for the whole day or maybe hang out at Spring or just drag myself around town. But this year, I was swept off from the city to watch the very serene view of fishing boats and calm water........
I was back at where we had our first lunch date. Hehe =P Yes a place to remember indeed. Plus the food here is good! Oh but am so sorry that because it was a holiday, my blogging mood was also in holiday. Therefore, no photo of food. But we had the fullest lunch ever! And in the end, we had to cancel one dish cos we can't fill anymore into our tummy.
Nope. Not my coconut. I don't like coconut drinks. Just not my type. I'm better off with my loyal green tea. Healthy yet refreshing! =D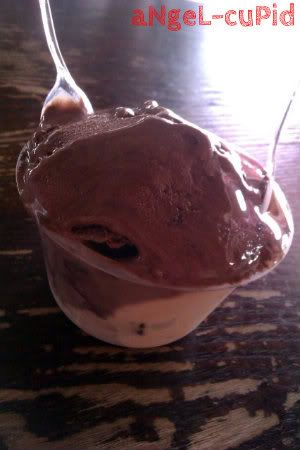 Rum raisin plus chocolate chips gelato from Scoops! Not in the same day but the weekend before Labour Day, the two of us went there for tea break. It's been so long since I had something cold. I'm not being banned or should I say warned by my mom and aunty that I'm not allowed to take anything cold. So please do not eat ice-cream in front of me! I warn you! =P