Westlife Concert
Remember I won
Westlife Gravity Tour
concert ticket from
Mix
FM
last month? Hehe Finally the time arrived after the long wait and I flew off to KL just to watch the concert and had myself a nice weekend getaway.
We flew off on Friday morning with bro YC. Nope he's not going to the concert but to attend a friend's wedding. He's such nice brother. Willing to fly there just to be 'brother'. Nice to have such awesome friend kan?
Anyway, our hotel was located at Puchong. It's called
101 Lake View Hotel
. Sadly KLIA taxi counter staff doesn't know the place and charged us the price to Bukit Jalil =.= Oh did I mention we flew Fireflyz this time? First time and ah......I still prefer AirAsia's pilot =P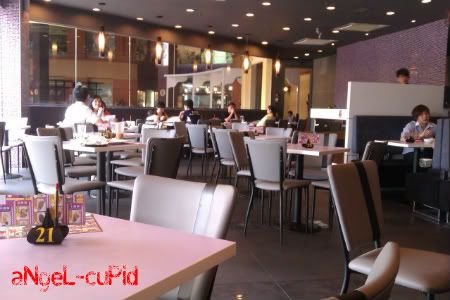 So after dumping our bags into the hotel room, we walked to
iOi Mall
which is just next to our hotel! How cool is that! You know when you travel, the best place would be having a shopping mall right next to your hotel. It's so convenient.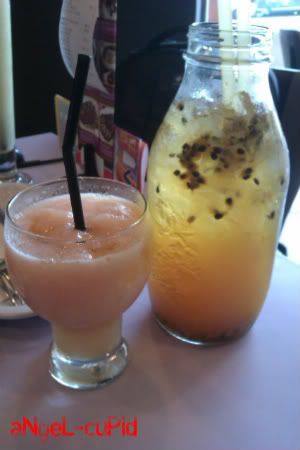 3 starved monkeys went straight to hunt for food.
Wong Kwok Char Chan Teng
was where we had our lunch. Not bad but I wonder why their
'char siew'
is so dark. It's like charcoal! Oh and that's our drinks. I didn't know my drink is actually such huge glass, didn't manage to finish it and had to tapao.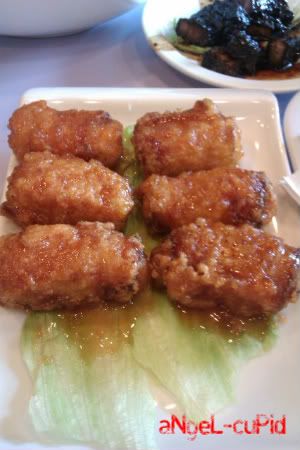 I don't know what is this but sorry to say, I don't like it. I'm not choosy with food but maybe it's just the taste that I don't like.
After lunch, shop around for awhile then head back to hotel for a short nap so that I can be wide awake for the concert that night. Hehe =)
View from our hotel room. Honestly I quite like the room. It's very clean. Budget enough. But one thing I dislike is their door. They actually uses keys to look it and not cards. Not that safe lor.
Hailam Kopitiam
is just below our hotel. So we had light dinner before heading out to the concert. It was so jam that night that our cab couldn't reach us on time. So we had to walk out to the main road and lucky enough, there were 2 cabs there on standby but they had to charge us extra due to the massive jam. Jam was caused by the concert =.='''
I WAS THERE!
Stadium Putra. Ok epic stuff happened. Somehow these taxi drivers can be quite blur. He doesn't know where Stadium Putra is and thought it's the hockey stadium and dropped us there. Apparently Stadium Putra is like 1km away from the hockey stadium and we had to walk there! By the time we reached Stadium Putra, we were sweating like mad pig!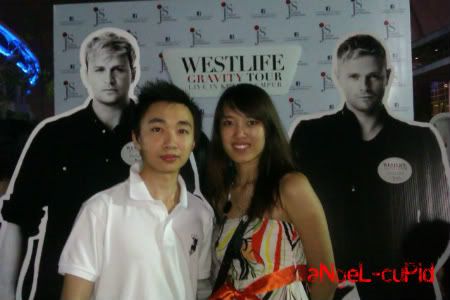 Our sweaty and tired face. So much for walking. Luckily I was in sneakers!
Concert only started at 9pm. I was sitting at the very last row facing them. Ugh! Sorry but I think the seating arrangement sucks. Those people who bought Gold tickets get to have a closer view than my Platinum tickets! And then there were signs that drinks and food were not allowed inside the stadium. So we went in without drinks and end up seeing so many other people with drinks in their hands! Mad mad mad! I was so pissed before the concert started.
No camera? Everyone was with DSLR! No drinks? Everyone was holding a bottle!
What type of organizer is this!
Ok enough of rant.
THE CONCERT WAS AWESOME!!
I shouted til almost lost my voice =P I nearly teared singing Flying Without Wings. Ahhhhh miss those childhood memories during primary school =) Concert ended at about 11pm. And again epic happened! We walked the wrong way out only to find ourselves going around the whole Stadium Nasional!
Fail fail fail! Fail whale!
Luckily we didn't have to wait that long for cabs to arrive. Many didn't manage to catch a cab back cos they stayed too far but I think this is kinda unfair. I mean, you're a taxi driver, you're suppose to bring people everywhere right? And not choosing your destination. Oh Malaysian!
Day 2: Soul picked us up for breakfast and then dropped us at Sunway Pyramid. Shopped til noon and then took cab and went back to hotel. Nap. Eat. Movie. Sleep. =.='''
Day 3
Time to go back home =(
I don't wana go homeeeeeeeeeeeeeeee!!!!!!!!!
Nooooooooo!!!!!!!!!!
When Westlife sang the song "Home", I sang I don't wana go home! Haha! Ok cut story.
Early morning we went down to Hailam Kopitiam for breakfast then started to pack our stuff and wait for Soul to pick us up. I'm so glad I have someone nearby that can send us to airport. Hehehe =) Save taxi money. Wahahaha!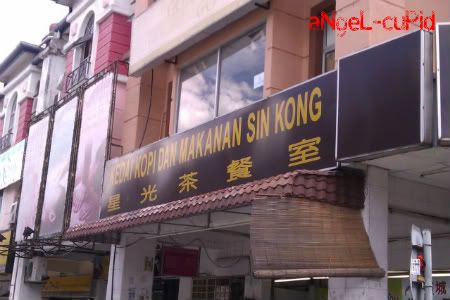 Soul brought us to Taipan for lunch. This coffee shop has awesome food!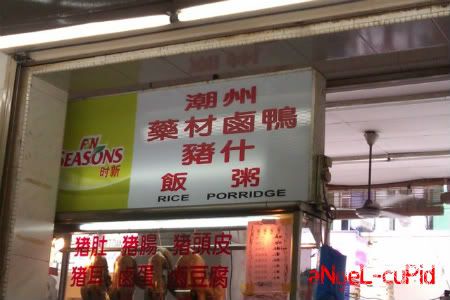 This stall.
REMEMBER THIS STALL!!!
It's a
MUST GO!!!!
Seriously trust me the food is SUPERB! Ok maybe for me lah but still it's
AWESOME!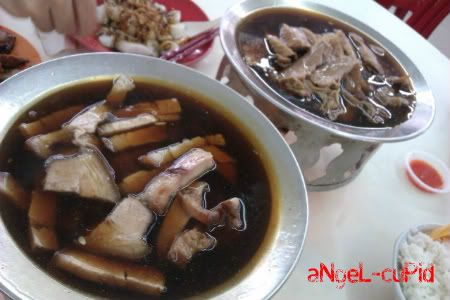 This is what we ordered. I had only pork with rice while Soul had duck with spare parts and I don't know what else. It's cooked with herbs so the smell is great!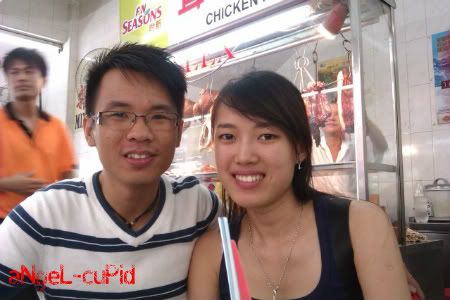 A photo before we left. Thank you so much for everything Soul! Owe you lots!
Til we meet again~ Ta!