First Time to Johor Bahru
Alright so here I am. Back to back-blogging. Hehe =)
Last December me and my family went on a vacation to KL and JB. It was our first time to JB. My best friend had moved over there few years ago and I've been wanting to visit her but never did until then. Me, my mom and my bro flew off to KL a night before we head down to JB. Crash at my aunty's place and we woke up to awesome breakfast!
Winter soltice season was so coincidently fell on our first day at KL. My aunty made some glutinous ball for us. I love this dessert! Prefer it plain and dip into the mixture of peanut and sugar.
Thank you Nong Ee~~
Then my aunty dropped us at the nearby bus station and we took the bus down from Tasik Selatan Bus Terminal to Larkin Bus Terminal at JB.
Bus rate was RM31 per adult. It was a roughly 4-5 hours ride. Thank God the weather was good.
Halfway during the journey, the bus came to a resting area and we had our lunch there. Nothing much. Chicken rice was the best choice available. Because we were already in Johor state, most of the food were Malay. Can't remember which station was this but it's not far away from Muar city.
About 2 hours later, we finally reached Larkin Bus Terminal. Waited there for my dear friend, Fung to pick us up for dinner. Time to hunt for JB food!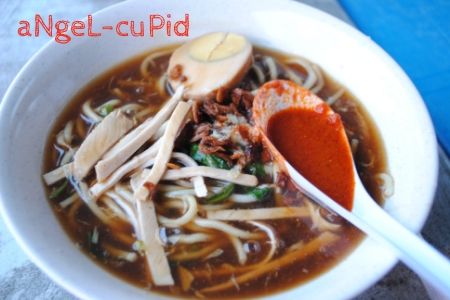 We were brought to some mamak stall. The best food is always found at mamak stalls. Hehe This is the addition-since-Penang-trip to my all-time-favourite list of food.
The Hokkien mee!
I just love the sweet and sour paste. Hehe =P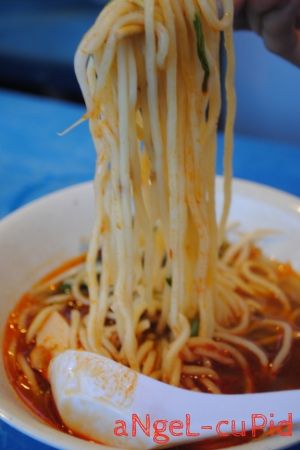 Time to savour! Oh damn I'm feeling hungry right now! You know the hard thing about being a blogger isn't about not getting paid, but it's about how you deal with food blogging at 12 midnight!
This was introduce by Fung. It's JB local food.
The Mian Fen Gao.
Made of flour into pieces like Kueh Chap but it's not. Ingredients are mani chai and anchovies. They have it in dry and soupy. I opted for the soupy one although I always prefer dry food. Er....I don't know why I chose soupy one also. Hmm....Must be brain-malfunctioned.
Oh wait! I forgot to comment, it was ok ok la. So so only. I prefer Hokkien mee than this soupy Mian Fen Gao.
And some lok lok. Oh love! Their lok lok even includes You Char Kueh!
The local sotong kangkung. Not much different than ours. Only their paste is more sticky. Hehe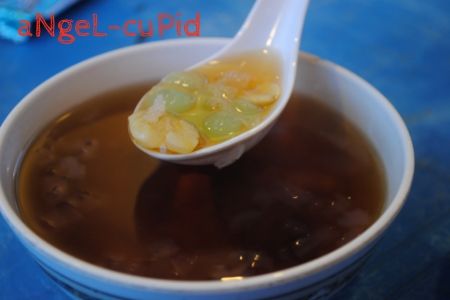 Some dessert my mom ordered for all of us.
After dinner we just went back home to unpack and rest for next day. It had been a tiring day in the bus ride. Plus, next day we're going into Legoland. So we need the energy recharge. Hehe
Next morning, we went for full breakfast before heading to Legoland for the excitement!
This time I gave the dry
Mian Fen Gao
a good try. When I put the first spoonful into my mouth, I was like "Shit why did I even order the soupy one last night?!" Haha! I love it the moment I tasted this! It's my favourite JB local food! Yes I'm declaring that. So to those of you who never try this before, give it a go! Two thumbs up from me!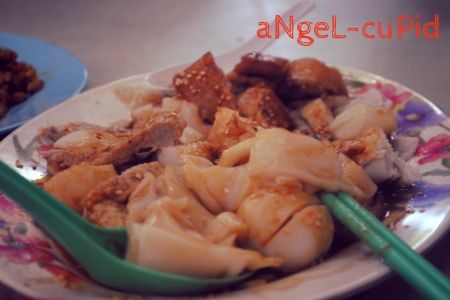 Ah and then I found
Chee Cheong Fun.
This is also my all-time favourite food. Love it no matter the Penang style or the KL style or the Hong Kong style. Love it all ways!
Damn I think I need to go search for food now. Shouldn't write this post at this hour =.=''' Wait up for my Legoland post ok? It's gonna be a very very long one with tons of photos! Til then~ Good night!