Sze Sze & Mimuk Wedding
Ok finally I'm blogging again. My blogging session had went slow ever since I start using Photobucket because I had to edit the photos one by one. Haiz...
Ok let's continue to my blog.
On the 7th of February, my dear friend Sze Sze finally upgraded her status to be Mrs Lai. Hehe =) And I was there super early. Not for her. But for her husband. Woke up around 5.30am to shower and get ready before head down to bf's place and then we went to the newly weds' new house at Stutong area.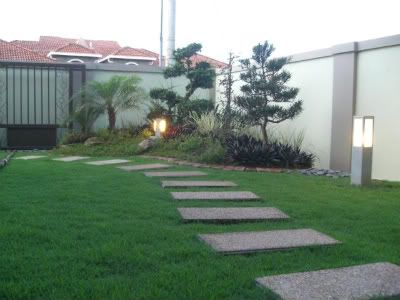 I love their landscaping.
The grass are awesomely soft!!!
And it's such beauty to have the morning breeze in this lil garden of theirs.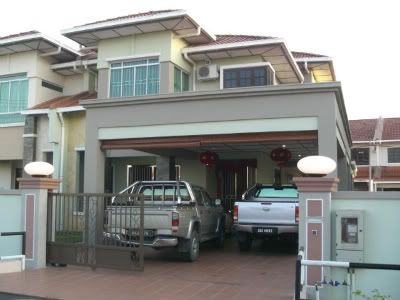 Their new house. Not exactly theirs because staying with parents in law. Now see that silver Hilux over there? I actually drove that all the way up til 17th mile and back at Stutong twice on that day! Hahaha! Geng leh~ It's a very very great experience driving a car I never drove before and going all the way up to 17th mile for the first time.
A simple decoration is all the house needed.
Curtains at the side of the main entrance.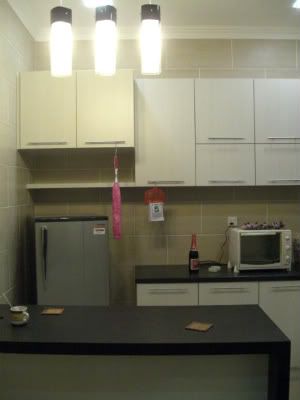 Dining area. Nice! I love the bar island.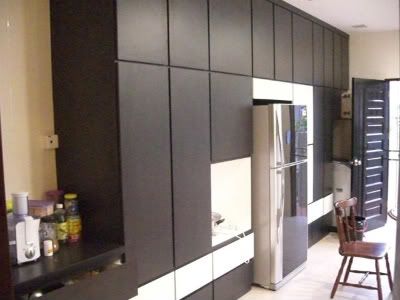 And
WOH!
Look at that row of cabinet!!! It's the kitchen which they extended out. The fridge and washing machine fits perfectly well. Duh~ Haha!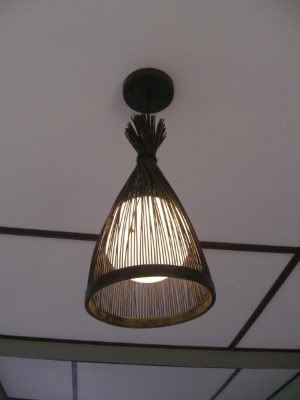 A lamp I found outside which looks interesting to me =)
Ok so first we have a white Viva by Mr and Mrs Kho.
Then my bf drove his black Myvi. I was suppose to drive another black Myvi too. But the Myvi forgotten to come down from 17th mile. So I ended up driving Hilux. Haha!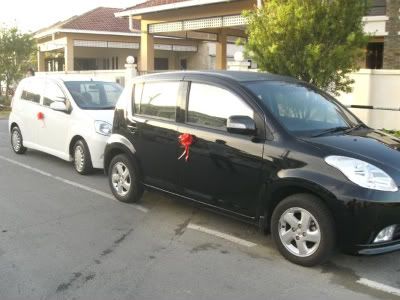 And another white Viva by Mr and Mrs umm....sorry but I forgot Chew Lian's husband's surname. Hahaha!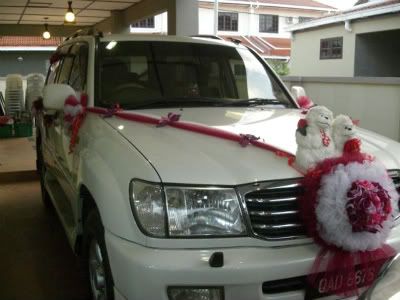 The wed car.
Huge oohhh~~~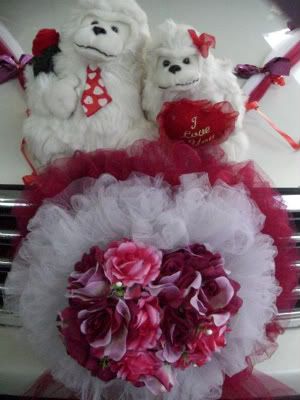 And as they declared themselves as the monkey couple from 17th mile. Hahaha!
Ok. At about 9am. We depart from Stutong to pick up the
Queen of the day
, Mrs Bride! Hehe =D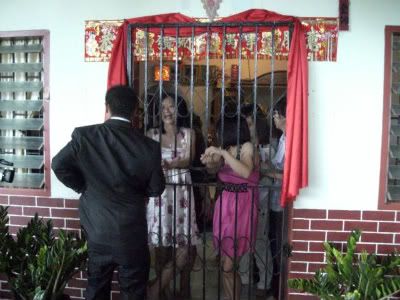 There. Once we reached. The girls were all already standby there wana ask for angpows! Scary wuiiii~~~~ There's only 6 of us and there's like more than 10 of them!!!!
Bargaining for price. Hahaha! But oh well~ He failed~~~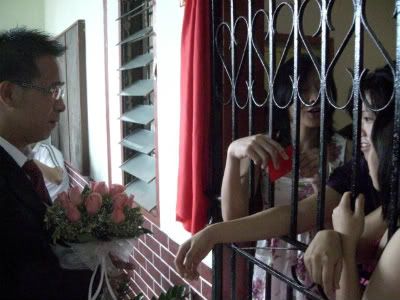 And they still asked for more. Say each person must get one. Hahaha!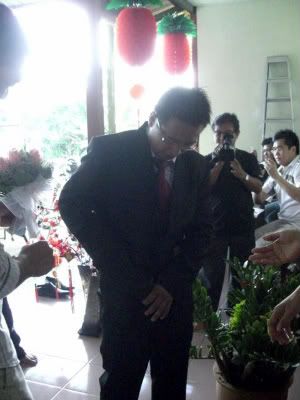 Kesian the groom who ended with empty pockets. Hahahaha!
Next, there goes the list of obstacles. Hahaha!
First, blow some love balloons~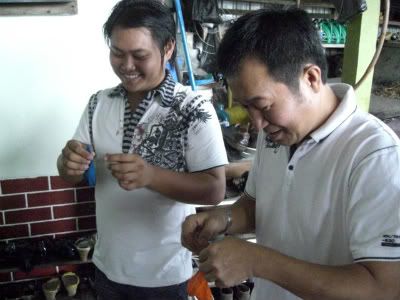 Brothers also must blow!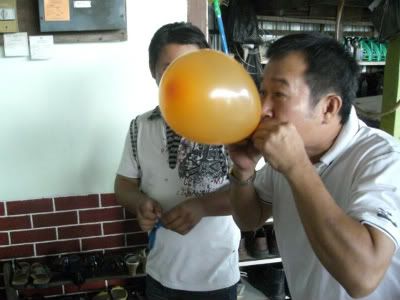 Fuiyo!!!! His one ended up bursting away~ Hahaha!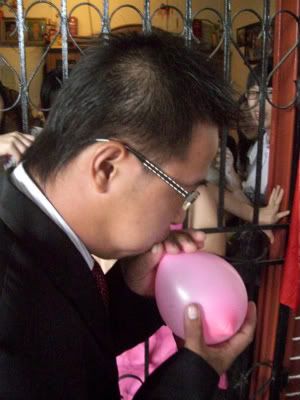 And he starts to blow his....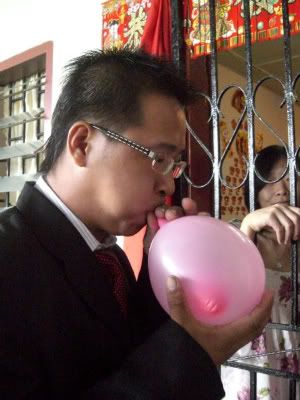 And keep blowing....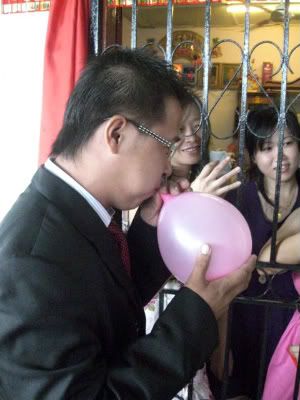 Somemore? I think his one also ended up bursting. Haha!
Wah this one nice!!!
Ok next!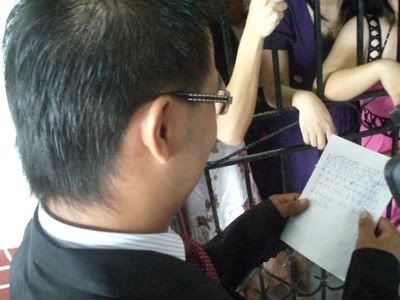 Their request: Please read this in Hakka.
*faint!*
Hahaha! They wrote some stuff in mandarin and asked the groom to read out loud so that the bride can hear.
And then....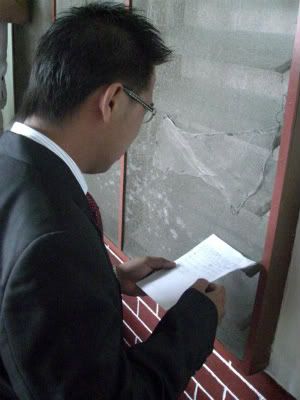 He found out that the bride is actually in the front room. So went to the window to read.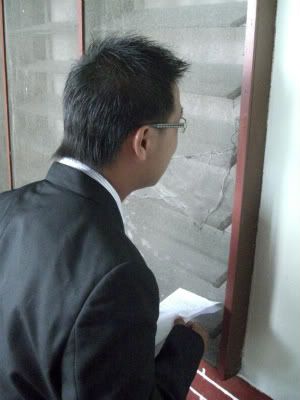 Mimuk: Can hear or not? Eh I don't know how to translate leh~ Hahahaha!
So then Mr Kho helped to translate the whole thing for him =D Brothers mah!
Next! Let's test some stamina~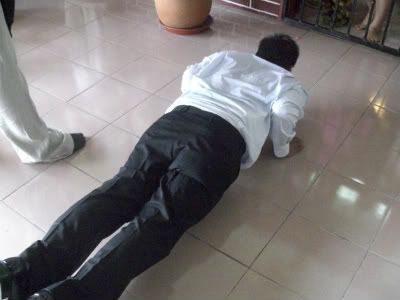 Go pumping!!!!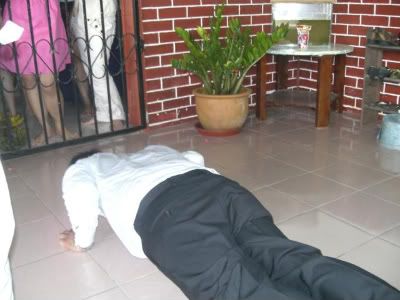 Ok he wasn't able to get up. Hahahaha!!!
Eh eh!!! Someone came worh!!! Let's chiong in!!!!!!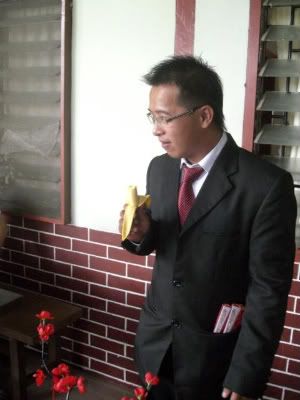 Haiz...failed again....got punish by eating banana.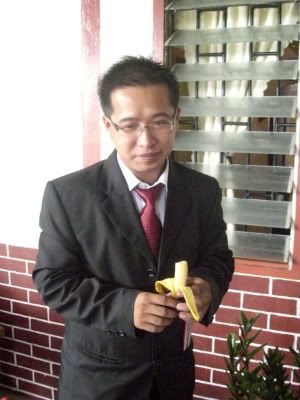 Why oh why wana pick the bride also so hard. Til had to swallow 2 bananas. Hahaha!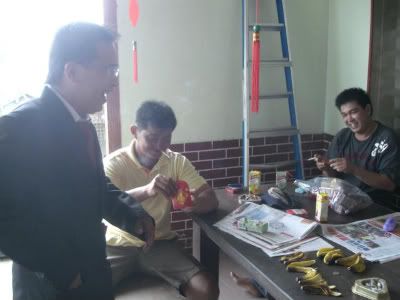 Ok time for the keys!!!! Angpows given to the uncle and brothers and the door is opened~~~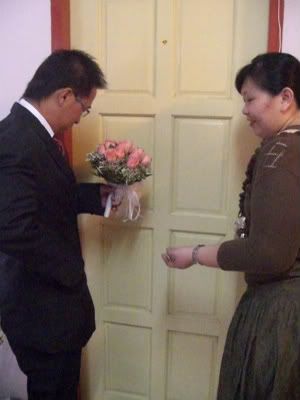 Walao~ Wana open the room's door also need angpow. Hahaha!
Hmm...one not enough?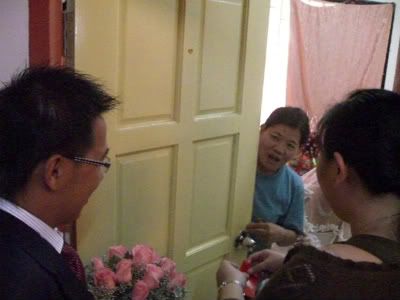 FINALLY~~~~~~~~~~~~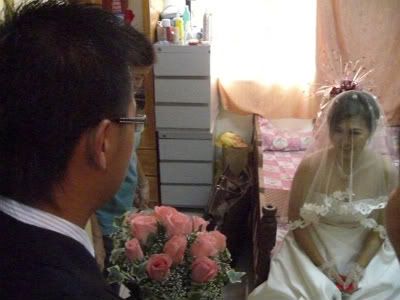 Awwww.......I love this capture.
The moment their eyes met...is when their emotions exchanged...and the love went into the air...
Mimuk: Let's go~! Eh wait! Why you're not wearing your heels? Hahahahaha!
Mimuk: Come come I help you~~~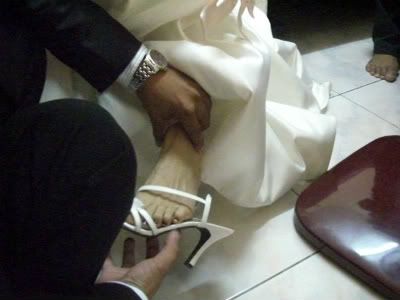 And the other side too~
Sze: Eh you can or not?
Mimuk: Done already lah~
Ahhh.....the beauty is what lays inside~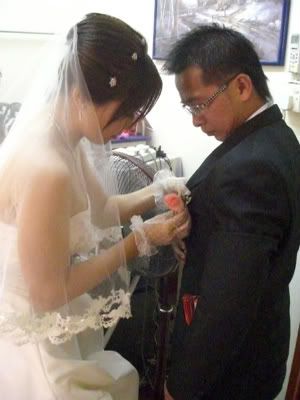 Exchanging flowers....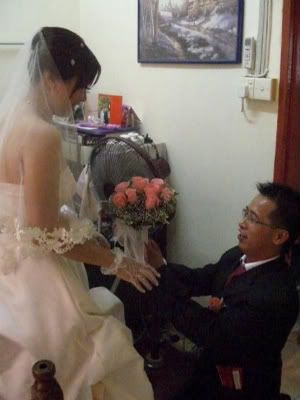 Proposing on the wedding day? wOotZ!!!!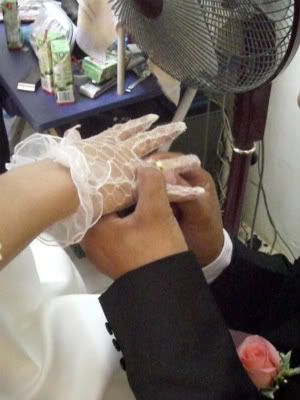 Exchanging wedding rings~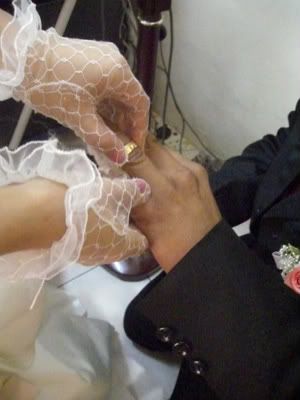 And when Sze puts it on for groom, she said
"Eh why cannot fit? Not you lar. Wrong person".
Hahahahaha!!!! This bride memang hor! Wedding day also bully husband!!!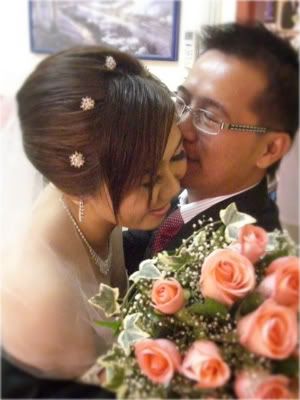 PHOTO OF THE DAY!!!!!!! THE AWESOMEST PHOTO I EVER TAKE!!!!!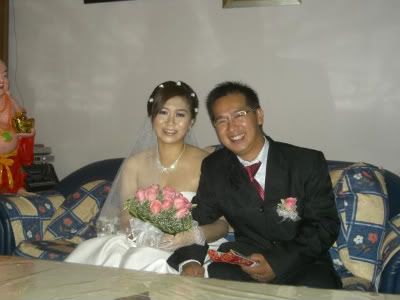 Finally can got her out of the room after so many obstacles. Hehe =D
Photo with parents of the bride.
Family portrait of bride's side.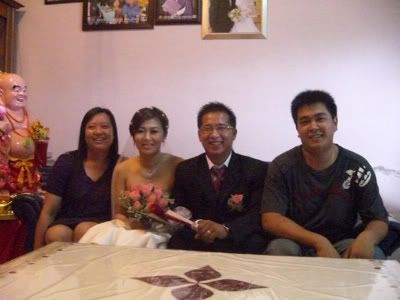 Brother and sister in law of bride.
Also brother and sister in law of bride side. And of course the lovely niece~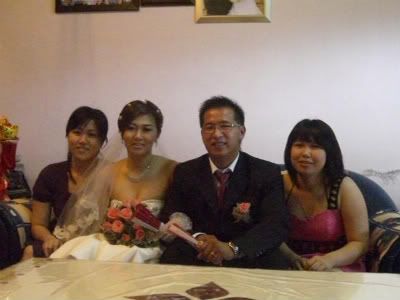 Sisters of the bride.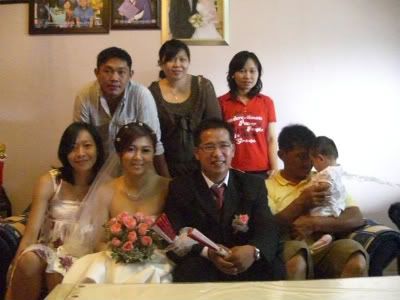 Cousins and uncle of the bride.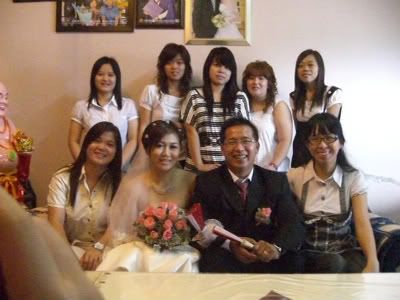 Bride's 'jie mei' of the day~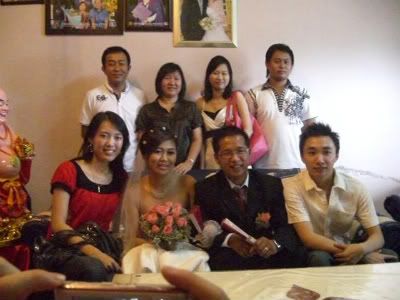 And us, the brothers~~~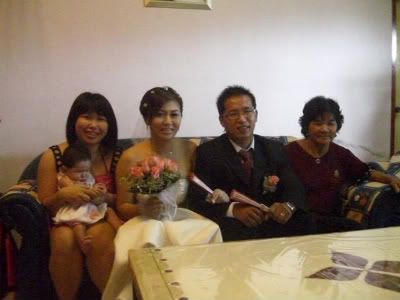 And the lady at the side is the one who's sending the bride.
Bride's sister, Fung and her niece, Charlene.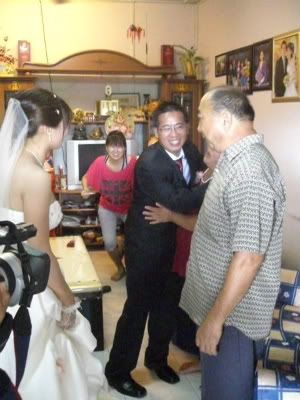 Before leave must say some words to mother and father in law. Give big big hugs and listen to their words also.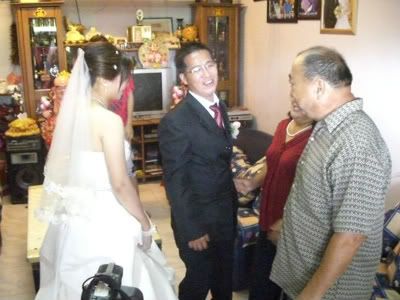 Mother and father in law telling son in law to take good care of their daughter! Hahaha! It's an order. Not an advice. Hahaha!!!
Son in law: Yes mom yes dad! I will!!! =D
As the fire cracker goes off~ They stepped out of the house as husband and wife~ Going back to their new house~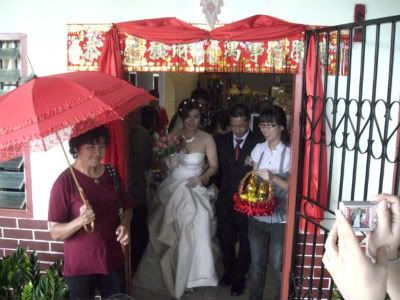 Cameras all up!!!
Cute cute golden rooster and hen leading the way to the car~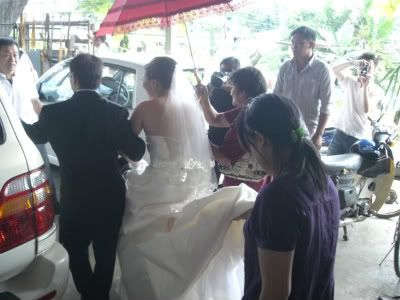 Red umbrella is a MUST! Well I don't know exactly the reason why but I do know it's a thing that cannot be forgotten.
Husband helping wife to get up the car. Hehe =) So sweet hor?
Smile people~!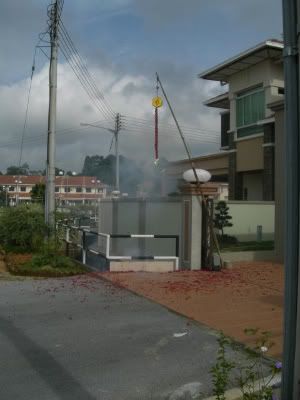 Upon reaching their new house, the fire crackers was set up too~ And I got hit by this one. Urgh! Damn pain arh!!! Next day my leg was bruised. Aihh....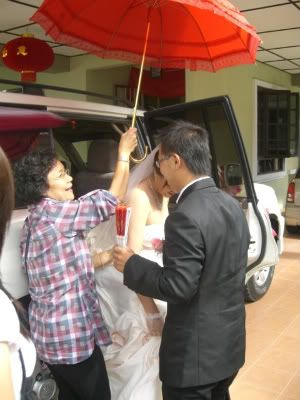 Hmm...saw something in the groom's hand? It's actually a fan. I don't know why either. Didn't ask. Maybe next time I'll ask them. Hehe =)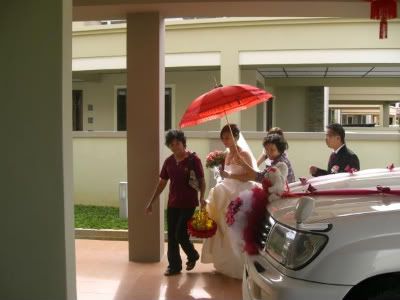 Walking walking into the house~
Careful~ Watch the steps~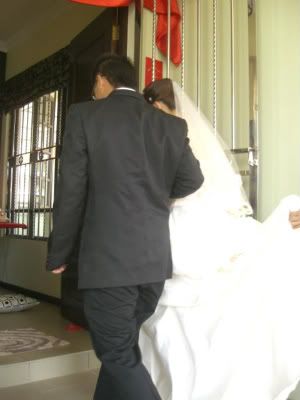 手牵手一起走~~~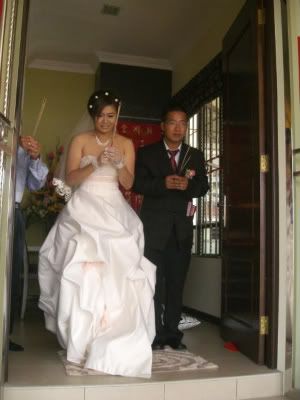 Prayers time. "Yi bai tian ti", er bai something something, san bai something something. Haha!
The prayers was rather long =.='''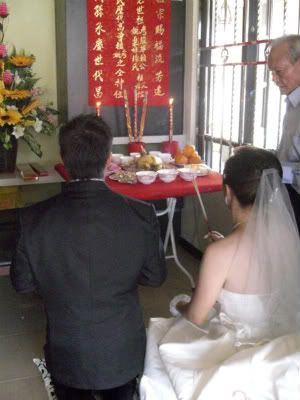 And they had to stand and kneel down few times too.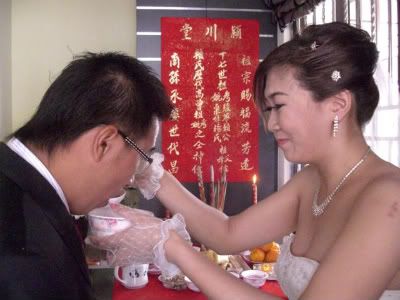 After prayer they feed each other with glutinous rice balls. Hehe =)
"Tang yuan" symbolizes something. I know it's good thing. But don't know what. Geez! There's so many traditions that I don't know about larh!!!
Oh this one I remember! The old man said they hold hands and together walk into their room and "TONG FANG" Hahahahahahaha!!!!!
Room of the newly weds~ Ang ang bo hai lang~
All of the traditional stuff which must be bought and bring over~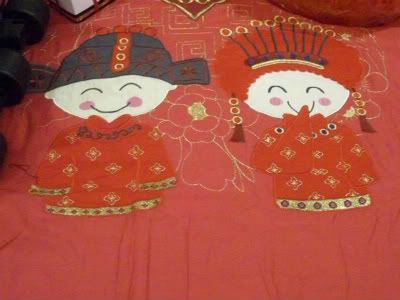 Cute leh the bedsheet. Hehe =) Next time I also want one like this. Hahaha!
Oh and also must have this lamp. Last time people use oil lamp. Haha! It must be lit from morning til night I heard.
Nice~
Time for the kids to roll around~~~ But this lil boy was sick that day. So he was rather quiet. Due to bopienness, the groom had to carry him to jump on the bed. Hahaha!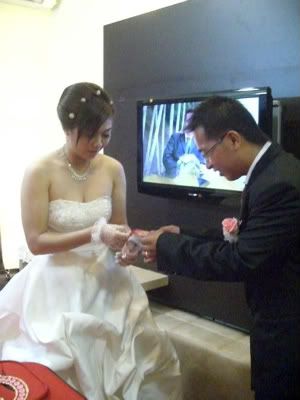 Before he can open her luggage, groom must give an angpow for wifey~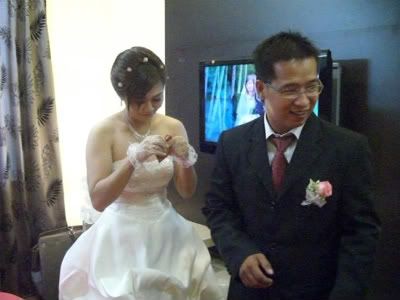 Checking see if enough money. Hahaha! Groom pun sweat lah~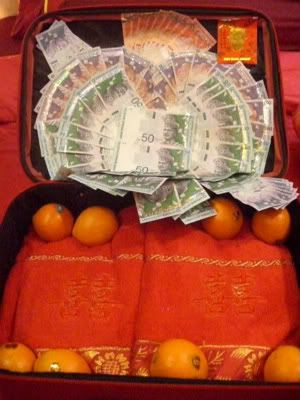 Tadah!!!! Count how much!!!! Hehe =DD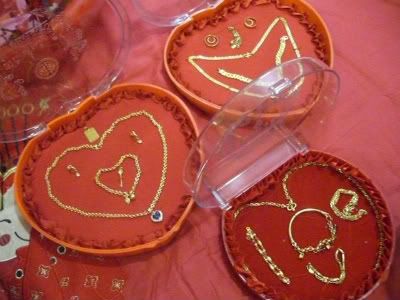 Her 'jia zhuang'. Alot oohhhh~~~!!!!!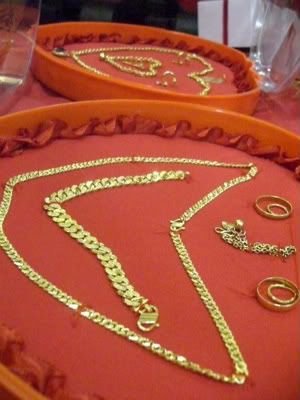 Gold gold and more gold~~~
This is the towel in her luggage. Hehe =)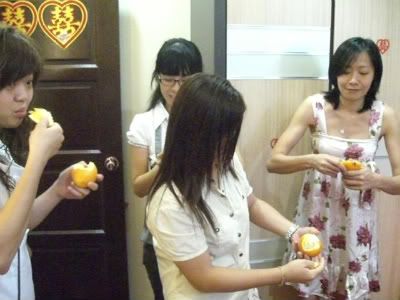 Eating orange competition. The one who ate finish the fastest will get an angpow. Hahaha!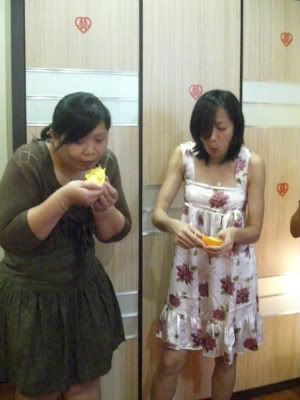 And I forgot which one of them won. Hahaha!
Bride waiting for groom. He went somewhere to settle some stuff. Then she was rather angry. Hmm..... But hor....
He came back with a glass of water for her. Awww.....melts~~~~~~
Eeeeee!!! Why does this one looks like family portrait geh? Hehehe =D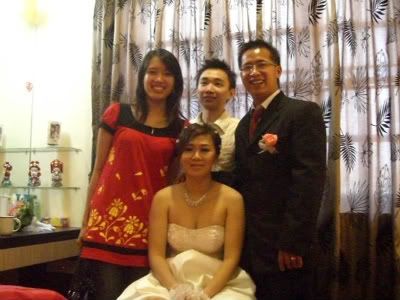 I was also ang ang bo hai lang on that day =DD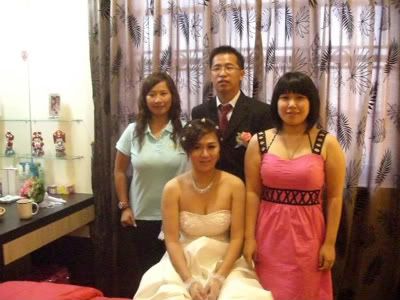 The one in green is groom's sister and the one in pink is bride's sister =)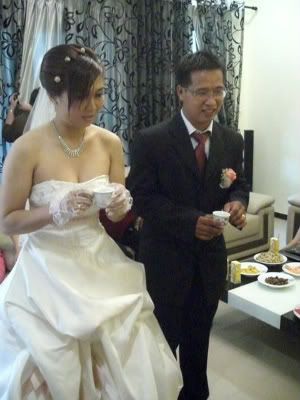 Tea time~~~~~~
To the parents in law~
And continue to a long list of relatives which I didn't post up. Haha! Too many photos lah~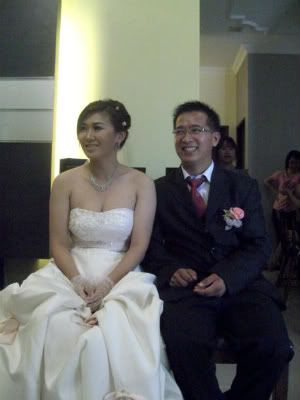 And then their turn to sit down and drink tea and give angpows~~~
First one to come, eldest sister Jasmine. Hahaha! Sooo happynye~~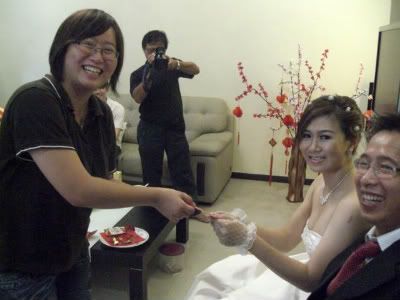 Second one also groom's sister =)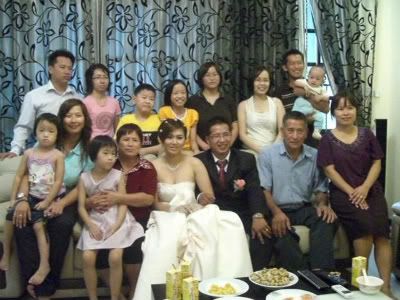 Ok family portrait is a must all the time. This is of groom's side.
Lunchy lunch~~!!! I didn't take pic of the food. Was already exhausted and hungry. Sze changed to her 2nd attire of the day. Purple's her favourite color~
After lunch we went back to 17th mile for bride's side of tea serving.
Back at her own house. Finally I have a photo of only me and her. Hehe =D
Tea for father in law.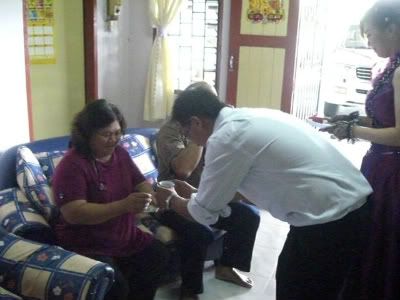 And tea for mother in law. Haha! He's such nice son in law lah~~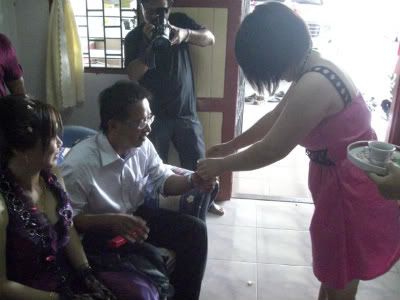 And then the sister went
SUPER SWEET!
Hahaha!
She greeted 'er jie' so loud and Sze said
'Wah first time you greet me like this'.
Hahaha! Know why? =D
Because they're giving her a gold bracelet bah~~~
Ada niat di sebalik mulut manis. Hahahaha!!!
That's how the day ended. After all those, we went home and fell off to bed the minute I came into my room. Hahaha! Damn tired!
Then woke up around 5pm to get ready for dinner at Crown. At night I didn't take much photos. Only photos of food. Cos I saw there's more cameras now than during the day. And my table was quite far from the stage. So I didn't bother to take any =)
Enjoy the food~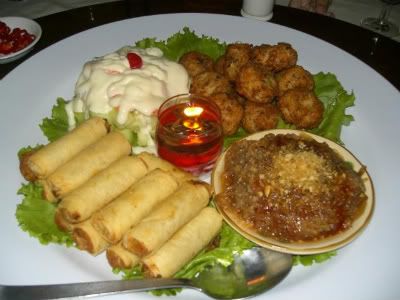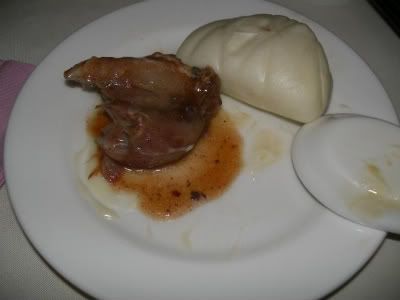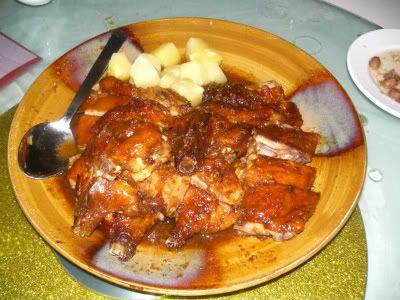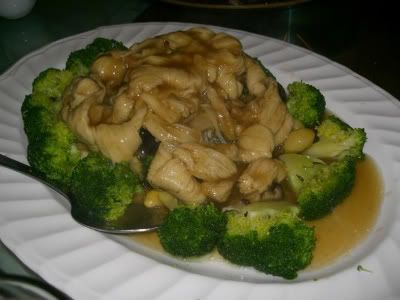 That's all~ It was a great day! And may the happy newly weds live happily ever after!!!