CNY Day 3
Come to Chinese New Year Day 3. The big day for my grandparents. Why?
Because on that night, we whole big Ho family celebrated my grandparents 80th birthday and 60th anniversary!!!! We have tons of games that night. Check out my photos~
This is my 2nd aunty. She likes to take photos. Haha!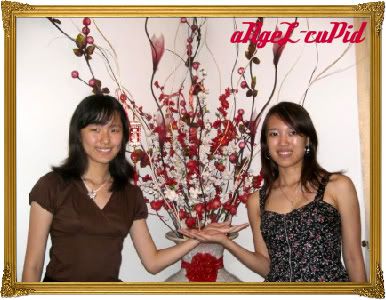 Me and my cousin, Wen Kah. She's a grown up now. Pretty pretty~~~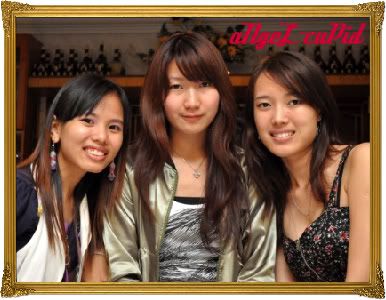 The trios again =P~ Why do I look so tired in every photos?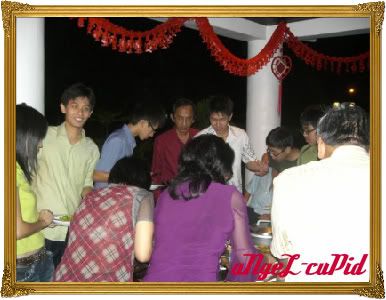 Before we get to the programs that night, everyone ate at my big aunty's house. Potluck dinner.
Me and cousin, Ing. A soon-to-be doctor for ear and nose. Hehehe =D
There. The birthday cake that me and mum ordered from Taka Cake House. But then to be honest, I was rather disappointed at the design. I wanted the "shou" word to be as huge as possible but it ended up so small.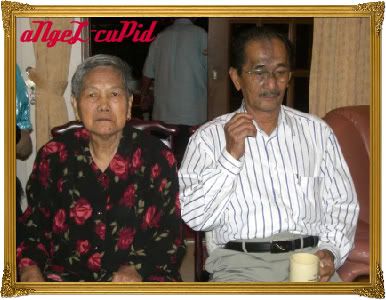 My Ah Kong and Ah Ma. Already 80years old lor. They were married when they're only 20years old. So young hor? Unlike us now. 40years old still don't want to marry. Hahaha!!!
Cameras all up! And video cams too!!!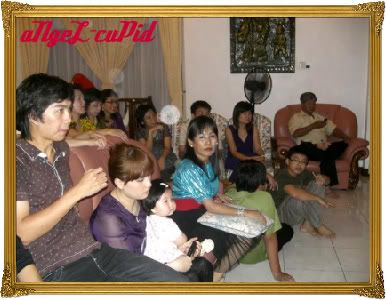 Audiences getting ready to watch the programs of the night.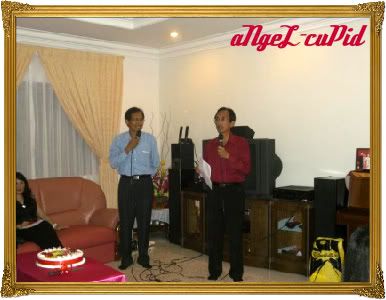 Host of the night. My 2nd uncle and 3rd uncle.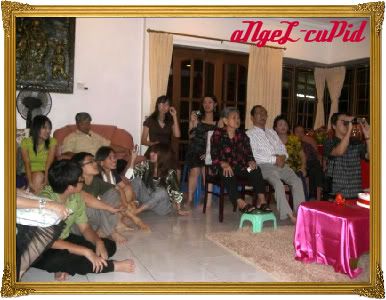 Audiences getting more and more. Hahaha!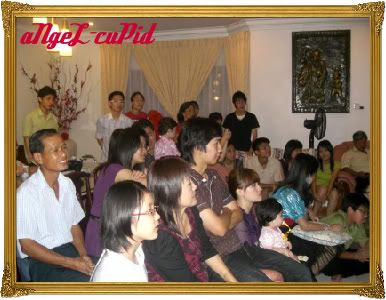 Everyone so concentrated eh? Mum says this one feels like the old time cineplex. Front row 50cents, middle row RM1 and the list goes on. Hahaha!
This is where one by one of my uncles and aunties telling stories about how their life was when they were little.
For your info, all of you! I'm a China-Indon-Kuching girl. Hahahaha!!!! My grandma is from China and my grandpa is from Kuching. They went to Indonesia for a certain period of time after married and gave birth to my 3uncles and 3aunties and also my mum there at Indonesia. For the rest, they're born at Kuching. So yeah, I'm multirace. Hahahaha!!!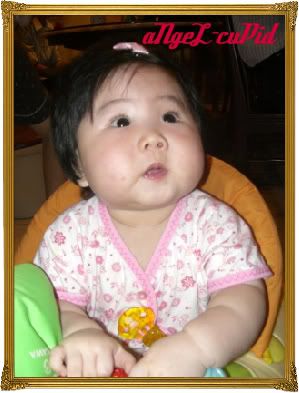 While waiting for the rest of them to tell stories, took some pictures around. This is my little cousin niece, Xi Xi. Cute hor? Hehe =D She is part China-Kuching also. Her mum is from China. Hiak hiak!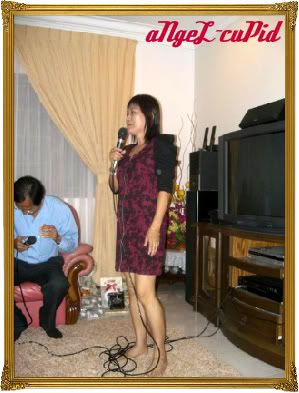 Ok. My mum's turn to tell stories. Hehehe =D Wana know what she tells?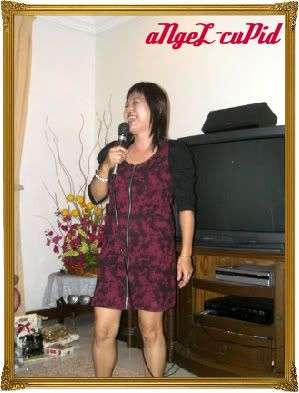 Nah you see she laugh until like that. Hahaha! Ok lah. She told us that last time, my grandpa used to buy her lots of durians and langsats. And everytime my grandpa bought it home, he sure go to kitchen to find my mum and ask her eat first. Hahaha! So now my mum's favourite fruits are durian and langsat. Hehe =D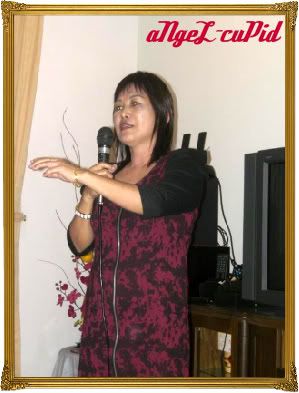 Dia banyak action! Hahahaha!!!!
Then it's time to blow of the birthday candles. Ah Ma's foot not that good so only Ah Kong bend down to blow off.
See Ah Kong so happy that night. Hehehe =D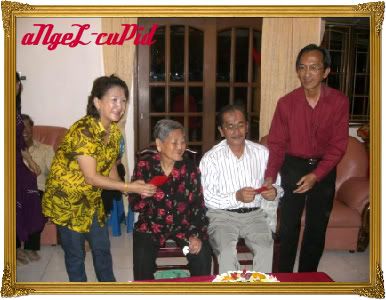 That's my big aunt and 2nd uncle giving angpows to my grandparents.
Happy Birthday to Ah Kong and Ah Ma!!!!! May both of you live long long life!!!!!
Up next, performance by every single family!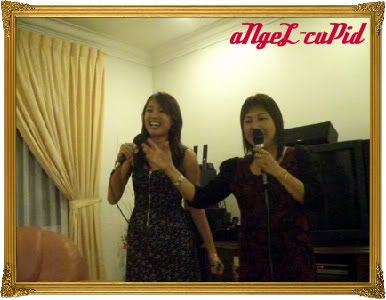 HAHAHAHAHA!!!!! Me and my mum sings some Hokkien song for my grandparents.
Then we also wishes Ah Kong and Ah Ma some nice nice wishes which I kinda forget. Oops!
These two are sisters. My dearly cousin, Wei and Jun. They performed dancing.
Shoooooooooo sEEExxxxYYYY!!!!!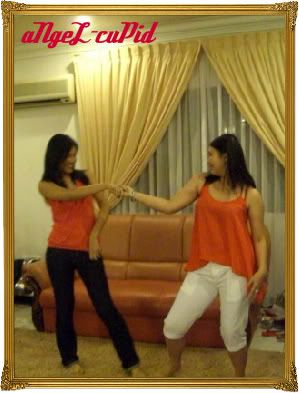 Everyone enjoys their dance alot!!!! Seriously entertaining!!!!!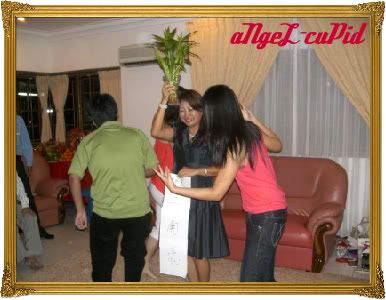 And that was how they ended their performance. Hahahah! With the mother and brother joining in to make lots of fun. My aunty's position? WAS AS THE COCONUT TREE!!!! Hahaha!!!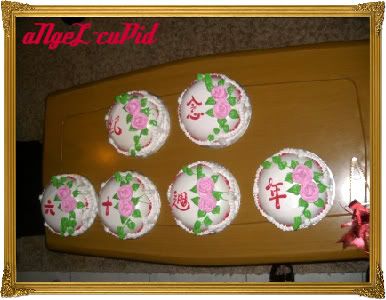 After the performance for Ah Kong and Ah Ma, we then bring out cakes for their 60th anniversary. Do you call it the Silver Anniversary? Can't really remember though. The cakes are all also from Taka Cake House.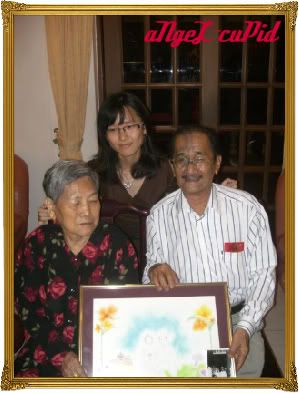 My cousin, Wen Kah drew a photo of my grandparents. She uses the wedding photo and transform it into a drawing. She's real good at drawing stuff.
After the photo session and all, we then had lots and lots and lots of games. Hosted by my aunties, Cindy and Kim.
This is the Henghwa language games. Each family to send a representative. But the representative had to be chosen by aunty Cindy. Hahaha! She purposely chooses those who doesn't know how to speak Henghwa at all. We really had a good laugh for this one.
And yes, for my family, my dad got chosen cos he's the only one who doesn't know Henghwa. Hahaha! And guess what, he speaks Hokkien instead of Henghwa. Hahahaha!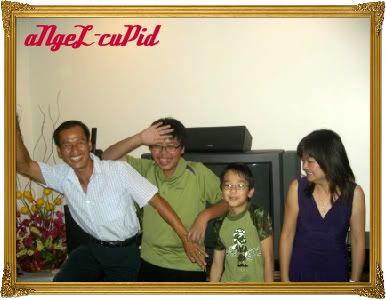 And then? He got disqualified lah! Hahahaha! These are all the looooseerrrsss~~~~ Kekekeke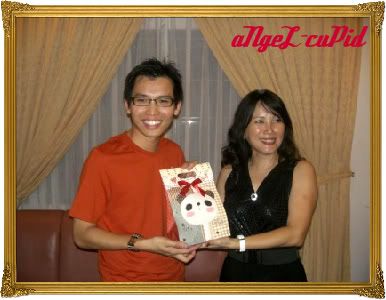 Cousin Dr Tan won the Henghwa competition. He's the only pure Henghwaian but doesn't know how to speak Henghwa.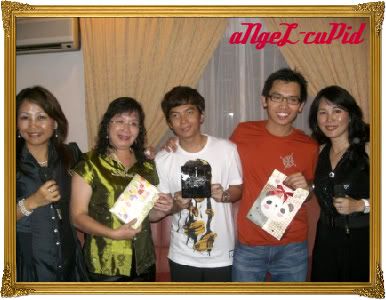 Aunty Nancy and cousin Han got 1st and 2nd runner up. Hehehe =D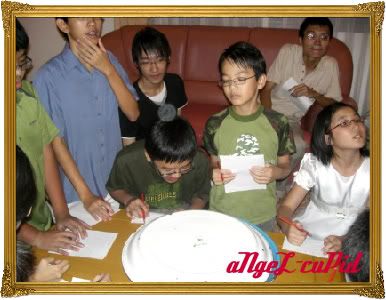 Next is the kids game. Wonder what are they doing?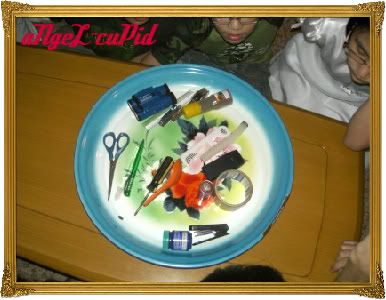 There's I-don't-know how many things inside this big plate. They were to memorize all of it and write them on a piece of paper. Hahaha!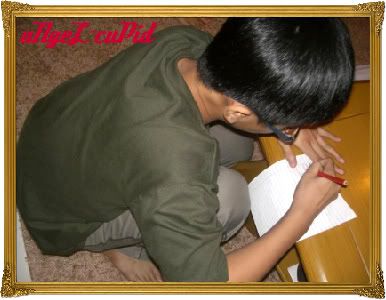 And my bro suck at memorizing. Hahahahahah!!!!
3 of my cousins won the memorizing games.
While my aunty and her kids won the performance competition. Remember the coconut tree? Hahaha! I should take a video of it lah. Seriously funny.
There's actually lots more competition. I too won some. Hehe =D I won the Sudoku competition. Miahahaha!!! And I also won the multiplication competition.
Ok lastly.......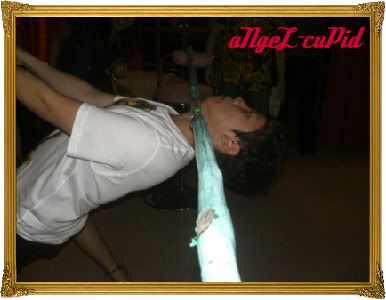 The limbo competition!!!!!!!!!!!
Woh woh woh!!!!!!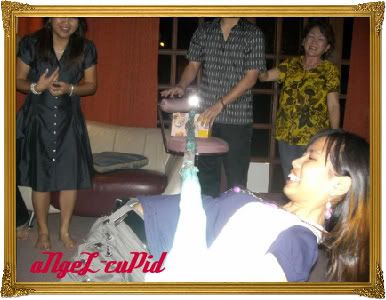 Hang in there!!!!!!!!!!!!!!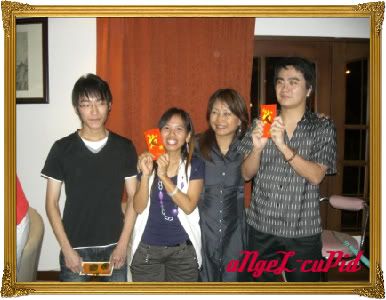 And the winner goes to cousin Chiang!!!! He's the largest size of them all and he's the winner!!!! WooTz!!!!!
Ok that's all about my CNY day 3. I'm so tired now. Tonight didn't go to dance class due to period. Sien~~~
I know I haven't been updating my blog lately. It's super duper hyper outdated!
Updates about me:
1) I'm still alive. Duh~
2) My work is getting busy cos I busied myself with stuff.
3) I tried to catch the rats at office but failed die die!!! Dang the rats are so smart!
4) I'm gonna start an online business soon. Catch up with me!
5) I need a Blackberry to survive in office.
6) I just spent RM80 last Saturday night. Haiz~ Time to earn some cash.
7) I have like 10 outdated post? Hahaha! Seriously I need to start blogging with Blackberry!
That's all! See ya!