Ice Kacang Puppy Love
Previous weekend, me and bf went to Hills Shopping Mall for our casual stroll and eat-out. To the coincidence, it was also the night when Ah Niu and 3 other actor and actress came for their movie preview, Ice Kacang Puppy Love.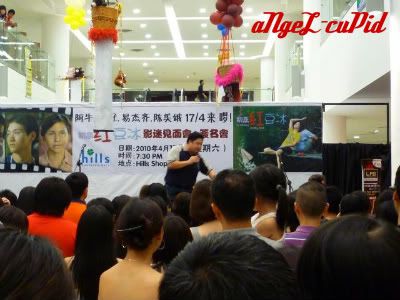 The very very talented MC of Hills Shopping Mall. You'll find him conducting almost all of the events held there. He's really good at making jokes and bring up the crowd.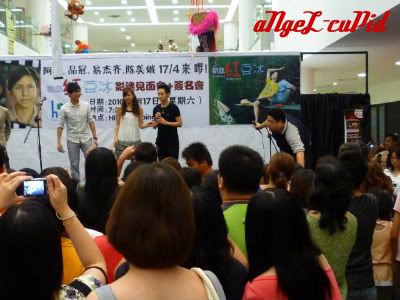 There comes the director, actors and actress.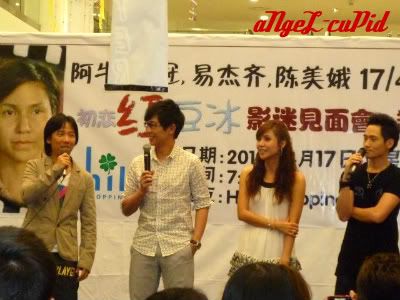 It's Ah Niu's first time directing a movie. All of the actors and actresses are local artist. Namely, Victor Wong (Ping Guan), Lee Sinje, Gary Chao, Nicholas Teo, Fish Leong and many others.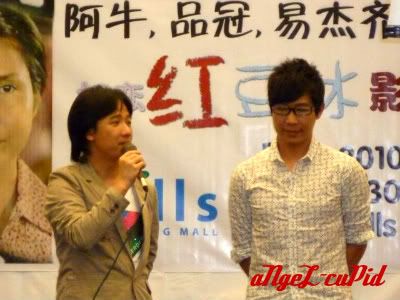 Ah Niu introducing the story line of his new movie. He acted as the main character in the movie named Botak. Heee~~ And Victor was the Prince Charming who has an ambition to be a singer one day.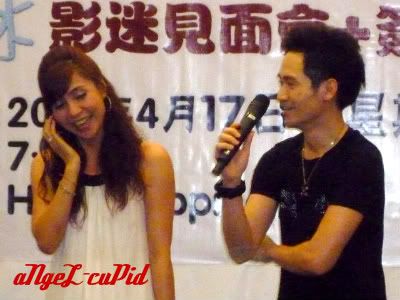 Whereas for Chen Mei Er, she's the mother of Lee Sinje. Yi Jet Qi acted as Ah Niu's brother who's very good at making Kopi O and talks non-stop.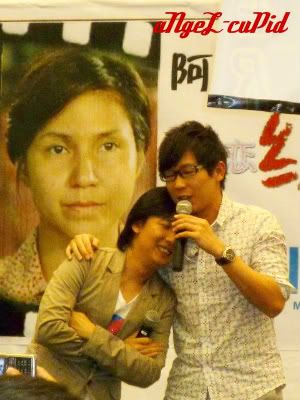 Aawww......I also want hugs~~~~
This surely captures a good crowd! I didn't know the crowd was this big until I saw this photo taken by bf. I was standing somewhere in the middle. Haha!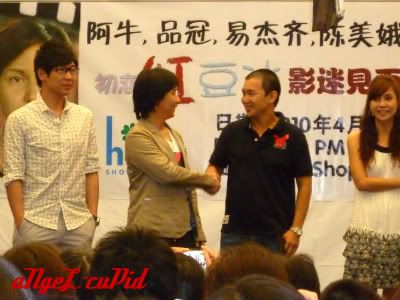 Then they had some singing games. Asked 4 audiences up the stage and start singing~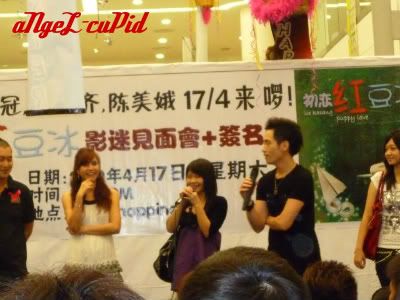 3 ladies versus 1 man!
This lady was the cutest. When she wanted to sing, Victor was making funny facial expression that she couldn't help but to laugh non-stop.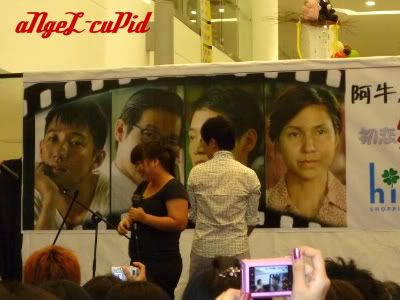 Even asked him to stand behind her so she couldn't see his face. But still she can't make it. Heee~~~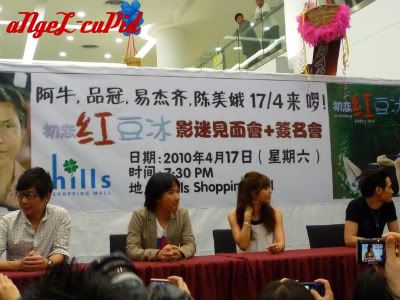 After that was the autograph signing session. I got nothing in hand for them to sign so we went off to shop around.
Spotted! A very loving man who helps his girlfriend to carry her hugeass handbag, Frankie. And also, a Rambo look-a-like with big guns in hand and bullets around his waist, Gerald. Hahaha!
I went to watch the movie last Sunday with Kelly and Gerald at MBO. It's a very nice movie! Thumbs up to Ah Niu!!! Everyone should go and watch! Support our local director~