Digi Umbrella
Last Saturday night, while I was walking around Spring Mall with bf, I saw Digi doing some promotion thing. So I went closer to have a view of what's the latest promotion. Have been a loyal customer of Digi for near to 10years!!!
Anyway, Digi was actually having promotion for their unlimited broadband. If you register on the spot or I think there's a time limit, you'll get a
FREE
modem,
FREE
unlimited songs download and
FREE
10k worth of personal accident insurance! How's that? Heee~~
Yeah and about that. When I went closer to look, a guy approached me. Asked if I'm a Digi customer. And I showed him my handphone and was asked to fill my name, contact and email add onto his form.
After that, I was told to walk to the center where the MC was standing, then he asked me a question. A super easy one!
MC: When a customer register for our Digi broadband now, he/she will be getting a free modem, free music unlimited and what else?
Me: Neh! Eh I can't see!
MC: You can go nearer...
Me:

( =.=''' Mengesiasoikan sendiri in a huge mall! I then walked to the banner and read and went back to him and announced proudly!)

Free 10k worth of personal accident insurance!
And there~ I was given an umbrella by Digi just cos I answered a super easy question!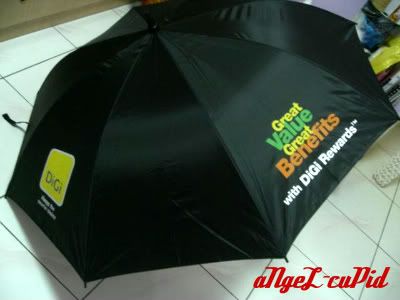 Waaahhh~~~ I've been complaining for years about the old purple flowery umbrella that mom passed to me to use just cos bro doesn't wana take a flowery umbrella =.='''
Weeeee~~~ Now I have a new one!!! A black one!!! With the sunlight protection skin at the inner part. Now how cool is that?
I love DIGI!!!!!!