My Skincare
Time to share my skincare secrets~ Heee~
I used to use cheap skincare products bought from supermarket. I'm not saying everything in the supermarket is cheap but those that I bought, never exceeds RM30 a bottle. After years of trying out various types and brands, I gave up searching. They all make my skin worst!
About 2 years ago, I came across a stranger brand called
Thalgo
. Never seen it. Never heard of it. I was kind of doubting it at first. Thinking that it's just another expensive brand that works the same as the rest.
But then after working at Unisense for half a year, I see difference. I see improvements on clients' face. Then I start to think, is it really that worth the price? My ex-colleague, the one who's in charge of facial department, convinced me to buy one.
He said just get a bottle of the cleanser and try it for yourself. If it works, then it's good. If it doesn't, just take it as a one time investment.
So then, I made my first purchase of the
Thalgo
skincare product. I tried on the
Cleansing Milk Pure Delicacy
. It was for dry to sensitive skin. My skin was very sensitive and it gets oily at the T-zone. But I refuse to try so many at one time, so I gave my sensitive skin a shot.
I wash my face only
ONCE
a day. Yes I'm a
SUPER
lazy girl. Morning showers means
'time to rush'
for me. So I only wash my face after I'm back from work.
After few months using the cleansing milk, I see the difference on my own face! Then there goes my commitment. Wana buy more?
It took my several months to get my hands on another purchase. That was when
Thalgo
was having sales, I bought myself another cleanser.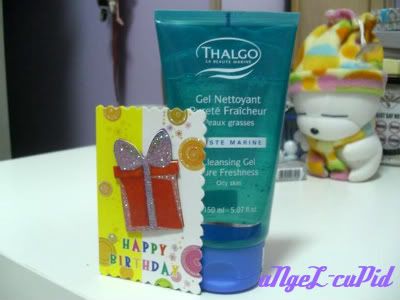 It's the
Cleansing Gel Pure Freshness
. Of course the picture above was the one given by my ex-colleagues as a birthday gift. That's actually the 2nd bottle. The cleansing gel is to help oily skin. Your skin will feel very, very fresh after using this cleanser.
Ok so I've got the cleanser. What about the rest? The toner, serum, moisturizer and mask?
I hesitated long time! It's seriously
NOT
cheap!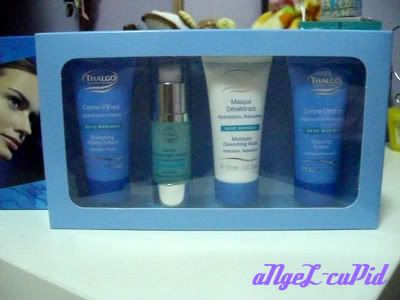 Then there comes my birthday and also the new promotion for
Thalgo
. That time they were selling this set of serum, moisturizer and mask for
ONLY RM199
upon purchase of another product above I-forgot-how-much. So I got myself the
Rejuvenating Sun Cream
for face and body SPF 20 and then this moisturizer set was a gift from my paps. Heee~ Also as my birthday gift.
I forgot what toner was I using that time but I know it's definitely not from
Thalgo
. Cos I only bought their toner last year.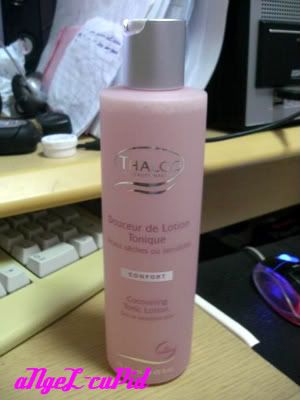 This was my latest purchase of
Thalgo
product. You can buy it in a pack of 2 bottles, 1 cleanser and 1 toner or you can have them separate. Since my cleansing milk has yet to finish, so I bought this separate.
Their cleanser and toner is the cheapest you can get. I'm not gonna reveal the price here. Hehe =) But now that my serum is finish, I'm thinking
VERY VERY
hard whether to get myself the
Bio-Repair Serum
or not. Maybe I should start saving cash in order to save my skin.
Can I have a question to the
Thalgo
management? Why
Thalgo
doesn't have membership that can earn discounts? Hehe =D Cos it sure will help alot for someone with a low income like myself.
Yes I'd talked alot. Time for you to see the difference on my face....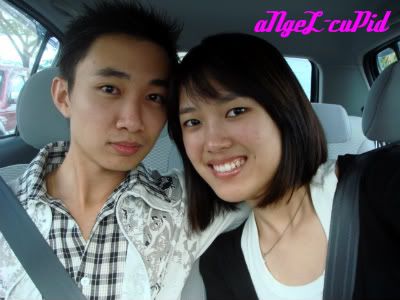 Herm.....this picture was taken on July 2008. See the red spots on my cheek? That's the sensitive part. My face was so sensitive that when I use the toner
(cheap ones!)
, they're like needles poking on my face! Now,
DO NOT
compare his skin to mine! Hahaha!
And there you go. The pic above was taken very recently. Camwhored at work. Hahaha! Ssshhh!!! Do you still see red spots? Still have abit I admit but not that bad anymore. Hmm...probably I should really get myself the
Bio-Repair Serum
.
So! The question on my previous post.
"Is Thalgo worth the price?"
I'll say YES! It's worth EVERY SINGLE CENTS that you pay for!
Let me tell you a secret, do you know why
Thalgo
suits every single type of skin? That's because
Thalgo
is 100% marine based! Their main ingredients are algae
(of course!)
and aqua. Water doesn't do harm to your skin right? So there you go.
Thalgo
will never harm your skin =)
As a proud user of
Thalgo
, I'm here to help on a contest that they're organizing.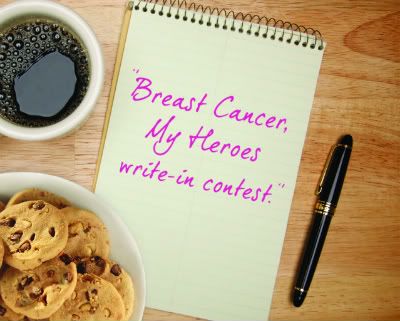 The picture speaks for itself.
Thalgo
is encouraging breast cancer survivors to write in about their stories. So am calling all breast cancer survivors out there! This month is the month to fight all the cancers. Please do write in to
myherocontest@thalgo-sea.com
or you can visit the link below for more information.
Breast Cancer, My Heroes write-in contest
Are you still hesitating on
Thalgo's
product? =) Feel free to ask me about anything related to it. I'll help as much as I could! Which lady doesn't wana look beautiful? Even men wants! Haha! And to all the men out there, there is
Thalgo for men
. Check 'em out!