Terre & Mer by Thalgo
Last Saturday, I was invited to Thalgo's new product launch at 4Points Sheration together with a few Sarawak Bloggers. I was a little late for the press conference though. Somehow miscalculated my time =.=''' When I reached, Cyril and the rest were there already. Sorry for the waiting! =)
I don't remember whether this is Room 1 or Room 2. A few press were there too. But our gadgets are
BIGGER
!!! Hahaha!!!
Let me introduce a little about Thalgo's new product.
Terre & Mer is the latest organic facial product by Thalgo. Thalgo is an expert brand in natural marine skincare from France. Their main ingredient in all of their products is algae. Why? Because the meaning of the name Thalgo is

'the richness of the sea and marine algae'.

Even now that they've created this organic product which is very very environmental friendly,
they still have preserved algae as their main ingredient.
Codium Fragile & Olive are the 2 main ingredients that made up the new Terre & Mer product. Codium Fragile is an algae extract while olive, well, it's olive. =)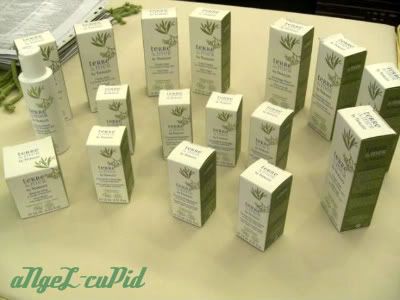 These are the new Terre & Mer skincare product. They have 8 types of home care product.
Marine Cleanser, Marine Tonic Lotion (toner), Marine Scrub, Vital Fluid (moisturizer for normal to combination skin), Vital Cream (moisturizer for normal to dry skin), Vital Balm (moisturizer for night use), Soothing Concentrate (serum for sensitive skin) & Anti-Ageing Concentrate (serum to prevent signs of ageing).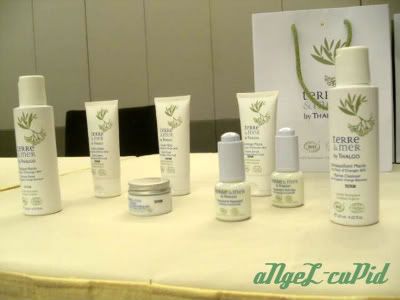 There. A clearer view of the products. Don't ask me for price please. Cos I don't know. Haha! But then of course, due to the cost of the product, the algae and the olive seeds, they sure ain't cheap =) And then there goes the question, is it worth it? I'll give you a short story later. So keep reading....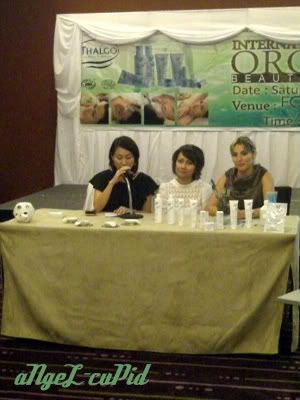 The launching of the product starts at 2pm. With
Prudy, the HR Manager of Thalgo
;
Judy, Managing Director of Unisense & Allunique Kuching
; and
the international trainer, Nawael Marechal from France.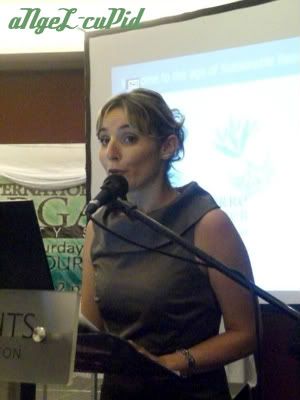 Miss Nawael gave us the introduction and information of the new product, Terre & Mer. She's pretty isn't she? Many were mesmerized by her beauty and her voice. Hahaha!
And this bed was prepared for the demonstration by Miss Nawael.
Ok I admit. All the talking bored me. So I went loitering around the room and outside. Heee~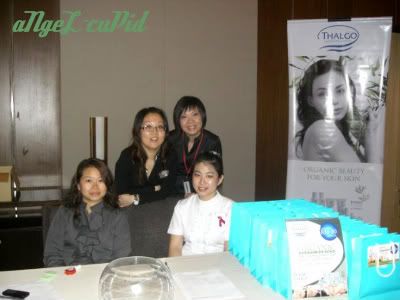 Chatted with few of these lovely ladies who were on duty that day.
Each of us were given this goodie bag when we registered ourselves. There were lucky draw coupons too!!! And those coupons are redeemable for Terre & Mer facial session! Nice!!!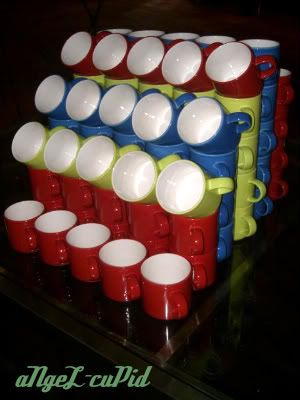 Unique or not? I love the colors~~ Feel like bringing one home. Hahaha!
Ladies and gentlemen, tea or coffee???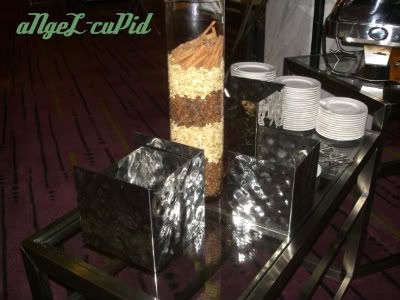 Umm....ok no pictures of food cos it's not serving time yet. So I was only taking pictures of the decor =.=''' I was
sooooo hungryyy~~~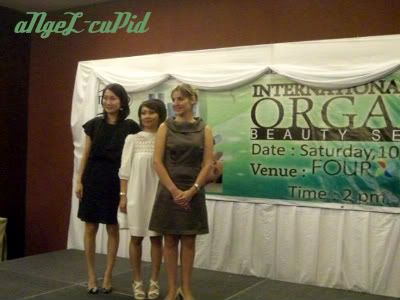 After giving all the
loooooooong
introduction and speech. Finally it's photo session!!! We even took a photo with Miss Nawael.
*Calling Fahriee!!!*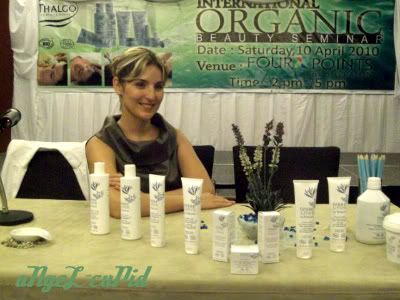 Miss Nawael posing with the salon facial products. Of course it's bigger in size and you won't be able to buy that home. Blek~~
These are.....er.....olive oil? And algae? I don't know. I'm just guessing =/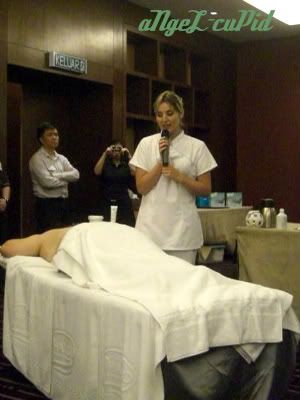 Demonstration time!!!!!
Miss Elizabeth was their model of the day. It's really daring for her to do so eh. I mean, oh you know what I mean~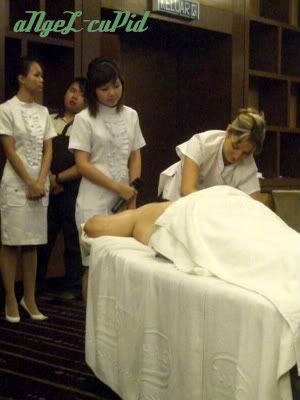 Before the facial starts, client will be given a back massage. It looks
reeeaaaaally
nice!!!
I feel like lying there for the massage.
Huuuu~~~~
And then goes the facial. The whole session including the massage is about 75 minutes. So long!!! I don't even shower that long =.=''' How to wash my face in 75 minutes???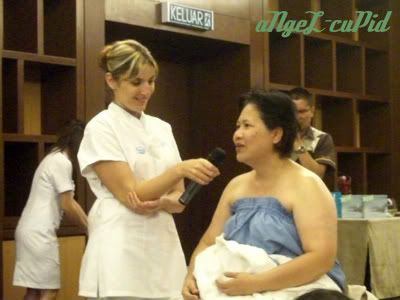 After all the massages and cleansing and toning and removing of mask.
Voila!!!
Miss Elizabeth's face really looks brighter to me!
I've tried Thalgo's facial once. I was using the Cold Marine mask. It's really soothing and cooling and refreshing and all of the nice words that can ever describe! My face really did feel good and became better just after one session! I would love to go back for another session but then it's gonna burn my pocket =( Any discount for me as a loyal customer of Thalgo? Hahaha!!!
Judy giving a souvenir to Miss Nawael. Batik still represents the local us =)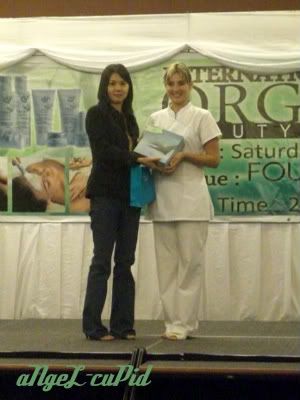 Ah yes! The lucky draw that I'd mentioned earlier on. This lady SUPER lucky! Got a whole hydration set!!! Urgh!!! None of us
(Sarawak Bloggers)
got anything from the lucky draw. Hahaha! Kesian~~ I would love to have a set for my sensitive skin =D
The whole launching lasted for 3 hours ending 5pm. I was very exhausted after the long day out. Fuh~ Home sweet home!!!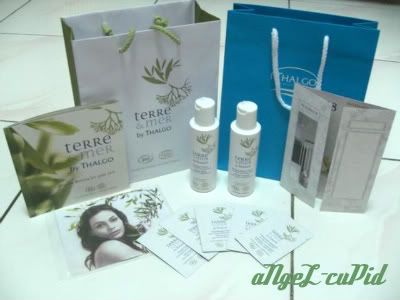 These are the goodies which I got from the launch. The blue bag consists of 5 samples of the product and some brochures while the white bag, is a
HUGE
thanks to Miss Prudy who was being
VERY
generous by giving us 1 Marine Cleanser and 1 Marine Tonic Lotion!!!
Thank you Prudy!!! And thank you Cyril!!! =D
Have any inquiries??? Please do not hesitate to leave a comment! I'm sure I can help to answer them =)
OR
Just dial the number below~~
Thalgo Kuching Exclusive Outlet
Rock Road : 082-253399
Satok : 082-256262