Aeroplane Chess Competition
Last weekend, 4 of us
(me, bro, bf and cousin)
went to join the super fun aeroplane chess competition held by Boulevard. I was informed about this competition by
Jimmy
via Facebook. Oh well, what is life without Facebook nowadays~ Haha! I don't even see this competition up in the newspaper!
Anyway, Jimmy kept telling me that it's gonna be a super huge board and we're the aeroplane itself
o.O???
The time set was 10am. So, no one likes late comers, we reached there at 10am sharp =D
When we register ourselves, I flip through the list of people who joined together, and what I saw was 7 - 12 years old kids! We were saying
"We're here to bully kids"
. Haha! But then luckily there were also a few parents joining together with their kids. There's also a family with teenage boys and another group of teenage girls. Oh at least!
Picture taken after the first round of game. We're up on the second round. There's 8 teams. Guess our team name!
We're the FireFly!!!!! =DD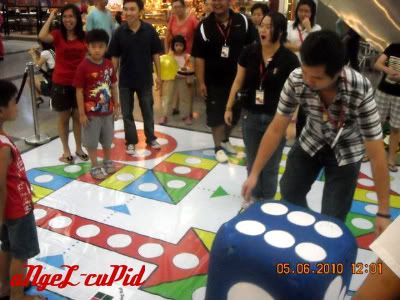 And there goes the game. Jimmy kindly helped us to take some photos. All of these photos were taken by him.
THANKS JIMMY!!!
Hehehe.....we were actually searching for the number 6 cos we can't get out of our hangar!
Wahlap!!!
The dice is huge ok! I felt as if I'm throwing a bowling bowl. Hahahaha!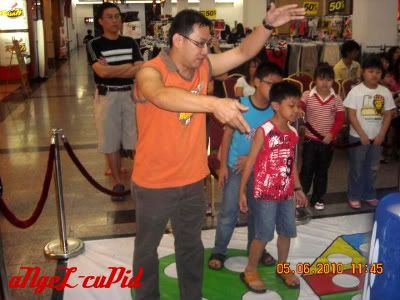 This is a team of father and 3 sons. They're the
'killa'
team. Cos kept kicking everyone of us back to our hangar.
Grrr!!!!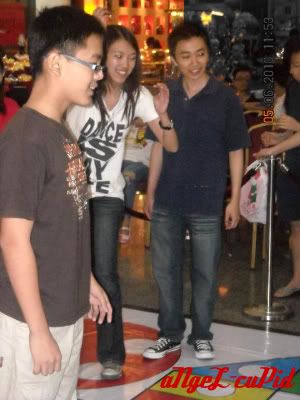 =D My bro was the only one in our team who managed to finish off.
Left alone in the hangar. Huuu.......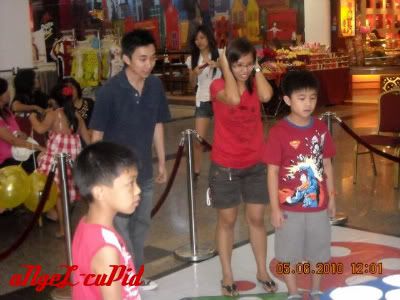 See the kids? We feel so big! =.='''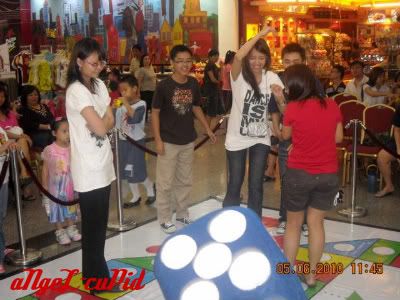 Another throw!!!!
Hahahaha! The funny thing about this? That's my cousin, Ing. She claims that the dice is bigger than her but she still wana throw it. Hahahaha!
=.='''' The dice can't even roll far. It's so huge lah~~
This was when the game has ended. Obviously taken from upper floor. Duh~~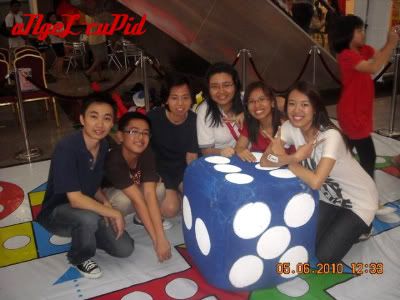 Picture with another 2 cousins who came to
'kepo'.
Hahahaha!
This is a team of mom and 3 sons. So cute lah her kids!!! So naughty!!!
The FireFly is announced as the most powerful spirit! Hahahaha! We got consolation prize. =)
My dear cousin who wanted to pose so much. Hahahaha! Like cousins we are~
It's a very very fun game to play around. Reminds everyone of us about our childhood memories. Definitely worth the play! Even we're bullied by kids but it's the fun that counts~ =D