Mooncake Festival
IT'S OCTOBER ALREADY!!!!!! Gosh time really flew and flew and flew so much faster as if there's a bull chasing from behind. Hmm....I know my title sounds very outdated but I was really busy with my own schedule so only until today that I have time to write this post.
How was your mooncake festival this year? Played any lantern? Ate any special mooncakes? =) Mine was rather quiet because on the day itself I was in class sitting for my progress test. Sigh...I did left earlier at about 8pm and reached home around 8.30pm but my heart dropped when I saw the whole house was dark. Mum and bro went to Carpenter Street instead. =( Sad huh~ So I stayed home and waited for them to come back. I wanted to lit some lanterns but I couldn't find them. Wonder where my mum keeps them.
Ok enough said. Time for some photos taken by both me and bf at Carpenter Street this year.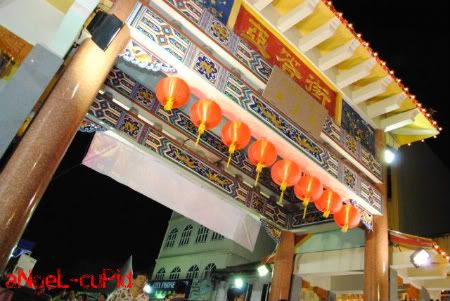 Me shoot this!!!!! Yeahhh~~~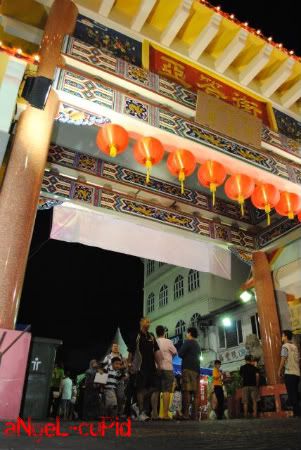 Another shot. Fwahhh~~~ Satisfied!!! =D I had a secret to tell you all. Shhhh!!!! Lately I had a crush. Heeeeeee~ A tiny weeny one but tends to satisfy me alot =D .......................................................................................................................................................... I had a crush on who? Blehhh~~~ I had a crush on shots taken from ground zero! =D Sssshhhh!!!!! Hehehehe.... I'm still learning ok! So please don't break my heart by telling me that my shots suck.
o.O???? Cute or not? It's a squirrel by Bomba team~ Kekekekeke =D
Lanterns lanterns lanterns~~~ I remember how happy I was back then playing lanterns with my cousins. Those were the days when all you stress about are the burning lanterns and not how much you bought that lantern and then got it burnt! Haha!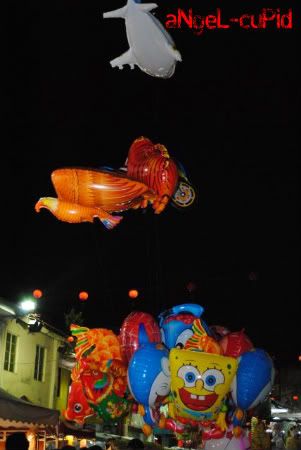 Balloons are also available!!!!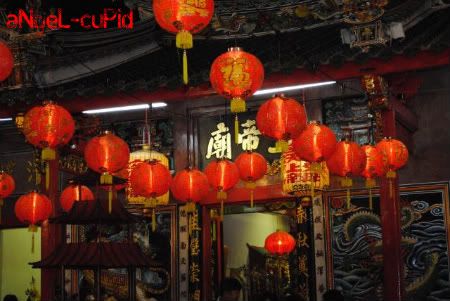 Classic lantern hanging around the temple.
Hey I found this unique lantern!!!! Hmm....where is the candle???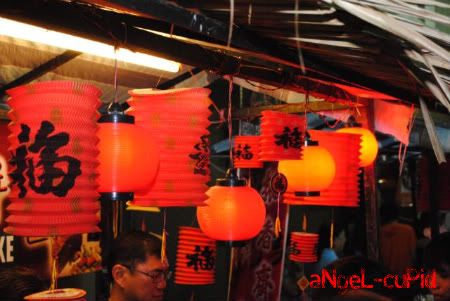 Aahhhh......nicely lit! Red red lanterns~~
And of course never to miss out the street performance. That night when I was there, it was Sarawak Wushu performing.
Niceee~~~ Ok I don't know how to use my flash the correct way. Anyone to teach me? =D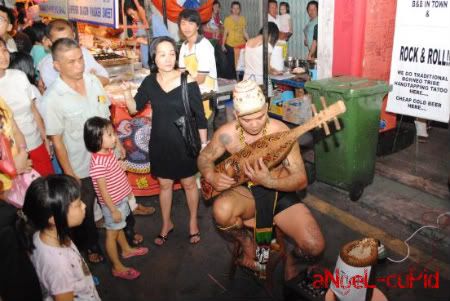 Some guy playing local music instrument out the Mr D B&B.
There you are!!!! Our very proudly owned Australian Peppermint tree!!!! It really is peppermint!!!!! Doesn't believe me? Go and locate it at the Bishopgate and pluck the leaves then smell them =D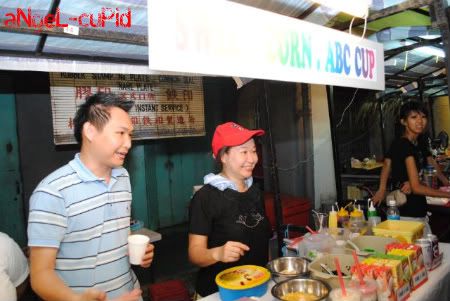 Ohai~ This is Albert's stall and that is his mum. He was selling sweet corns, ais kacang and lemang. I bought his sweet corn. Not bad. =)
Yep that's the lemang that Albert sold.
Kantung oh kantung oh popsicles!!!!! It's also called popsicles right? Correct me if I'm wrong. Heee~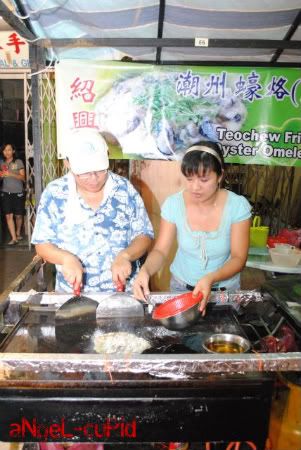 The very famous Teochew Oyster Omelet which you can find at least 10 stalls back at Kuching Fest =.= For that one piece of omelet cost you RM10!!!!! Luckily I'm not an oyster omelet lover. Hahaha!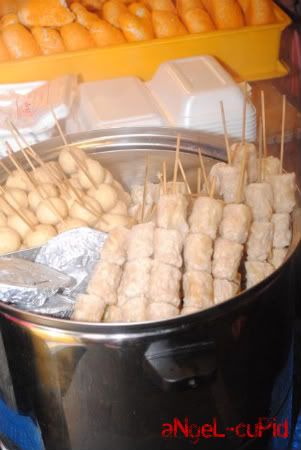 Sio bee or fishballs anyone? Hehehe =) Steaming hAWt!!!!
Every year I will visit this stall. They have all sorts of kuihs and snacks which you can never get enough of. Hehehe =) This year they have something special which is the sushi bun. I bought one. Nice!!!! Super filling!!!
The traditional stationary of Chinese people. I never get to learn how to write Chinese words properly using this method cos I don't go to Chinese school. But I did played with it because my cousins all went to Chung Hua schools. Haha~
Weeee~~~~~ Once again the main temple, Shen Wan Kong was filled with lanterns!!!! Photo over-exposed due to my failure of controlling the flash unit. Haizzzz.......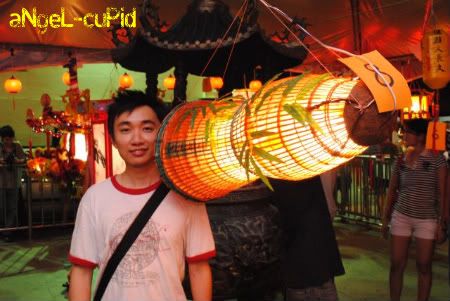 I love the color of this picture!!!!! It's so natural!!!!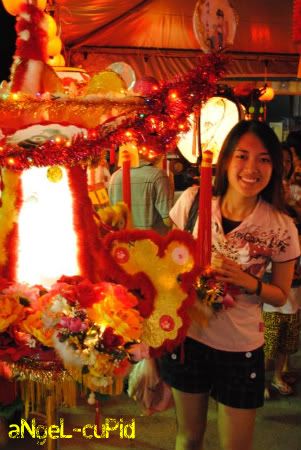 And lastly, me wishing you all happy belated lantern festival~~~~ Hope you had fun! =D