Shimino Harajuku Japanese Crepes
Hey hey hey~!!! December is finally here and my blog is super outdated I know. Hahaha! So here I am blogging at 10pm on a Saturday night. Kekekeke =D
I'm gonna split my KL weekend escapade trip into a few posts cos there's 77 photos to post =.= I can't squeeze all photos into one post else everyone of you will be screaming when you're loading my blog page. Hahaha!
First post to be about the Japanese crepe that I've been wanting to try ever since I read it from
Cheeserland
. Of course she had it all the way at Japan and I can only fly across South China Sea to try it at KL. I'd done my homework before I went to search for it at KL. Found namely at 1Utama, Pavillion and Midvalley (I think). Well since 1Utama is the nearest to my aunty's house, so I went immediately after I touched down LCCT. Hahahaha! Kiasu lehh!!!
I only know it is at 1Utama but I don't know which wing and which floor so me and bf walked around and around and around until we got lost in 1U. Damn siasoi =.= We kept searching it on the electronic map available. It said on 4th floor but when we took the lift up to 4th floor, we came out to carpark area o.O???
Until we saw the sign board above that says it's next to the cinema. So we track down the cinema instead.
There!!! The little store just next to the cinema and bowling alley. A very brightly lit store. Attractive enough for someone so 'tam chiak' like me =P~ Surely it catches everyone's attention. Hehehehe~
There're seats available in case you wanna enjoy your crepe on the spot.
Love love love Harajuku Japanese Crepes!!!!!!!!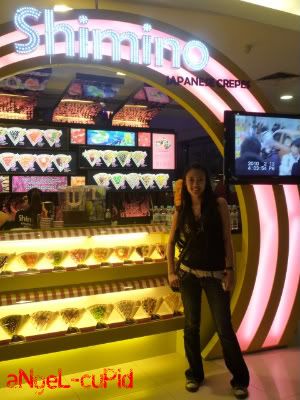 The whole store is overloaded with pictures and samples of varieties of crepes!!!
The sample looks even more attractive than the actual crepe itself!!!
Hahahahaha!!! Of course lah people always said
"pictures are always better than actually stuff"
cos they're
Cheat One
(copyright Cheesie)
!!!! =P~
Yummeh? Hehehehehe =D But then again, if you think that these samples are just fake overdid crepes, give it a try and think again. =)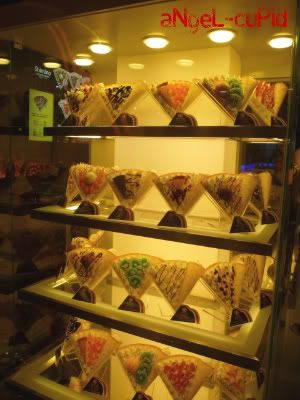 Macam-macam ada. You mok yang manis ada. You mok yang buah ada. You mok yang cake ada. You mok yang ice cream ada. Semua ada! Asal you ada duit aje~ Hehehehe =D
This was the one I bought.
RM8.90 for a strawberry overloaded crepe!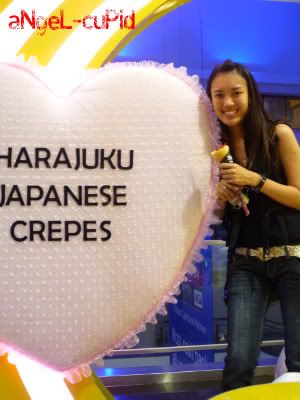 Me, my strawberry crepe and the love love love oh pinky love~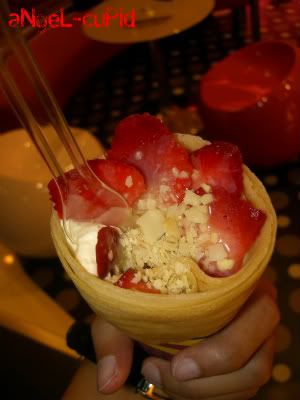 This is how my strawberry crepe looks like in photo with flash on. Nice kan? I tell you now, the strawberry is
NOT just on TOP ONLY!!!!
THE WHOLE CREPE IS FILLED WITH TONS OF STRAWBERRIES!!!!
Cepat go grab before they "cheapskate" it. Hahahahaha!!!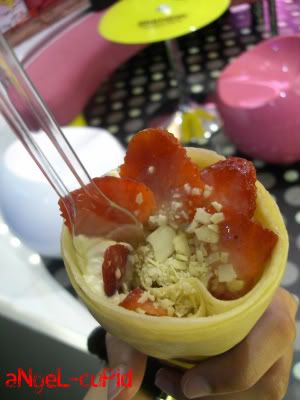 And this is how it looks like without flash. Damn full ahh!!!! The crepe is soft like the
'kuih tepung gandum' (ming hun kuih)
. Hahaha!!! It's thick crepe! Not thin neither crispy. It's thick and soft!
Hmmmmm......
slurps slurps slurpsssssss~~~~~
Mine was just ok because it's not cold but then the strawberries are
AWESOMELY DELICIOUSLY FRESH!!!
Maybe next time I'll give the ice-cream ones a good try. Go and try and tell me nice or not =D Or can someone please tapao crepe for me when you come back Kuching? Please please please? Hehehehe =D