Lian Hua Shan Park
Alright continue from previous post. 2nd day of our trip. We were to wake up by 7am and get ready by 8am because bus is gonna leave at 8.30am. Tour guide said if you're late then you'll miss the bus =O So the night before I set my phone alarm at 6.30am. Hahaha!
Of course breakfast is always provided by the hotel.
This is the hall where we had our breakfast at Hotel Bonanza. Huge hall. Feels like wedding dinner =.= The food, erm....no comment.
Just normal porridge, eggs, vege and bread.
It's China you know =) Not England. Hahahaha! =P~
On our way to the first tourist spot. It was a Monday morning so 8.30am is the jam packed time where everyone rushes to work. Shenzhen is a very well developed city. So you can see that their roads are so much wider than ours. And China's driving side is different from ours. Hehehe
Our first tourist spot, the
Lian Hua Shan Park
where
Deng Xiao Ping's
statue was built at the hilltop. And we had to climb all the way up just to see him. Hahaha! Anyway, if you're wondering who is he. I kindly googled for you all. Here's the link about
Deng Xiao Ping
.
The view from hilltop was damn awesome!!!!! But then too bad it was so cold that the cold clouds were covering the city! Dang! Else I would have gotten a great photo of those buildings.
Us imitating the statue. Hahahahaha! Damn phail lor this photo =X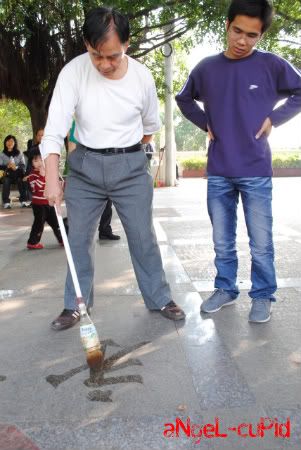 Then there was this interesting uncle. He was writing all those traditional chinese words on the floor using a huge brush that he created on his own. The guy in purple was asking him how he write until so nice and so he demonstrated one for us to see.
Seriously it's not easy!
On our way down I spotted alot of trees. Erm I should say all of the trees there were half painted with white paint. I was wondering why. Then bro said he overheard someone asking a painter there, and he said it was to avoid some bugs from destroying the trees o.O? Not bad huh~
A cafe at mid hill. We were told by our tour guide that there's alot of route to go up and down the hill. He reminded us over and over again to use the same way down and we still used the wrong way down. Hahahaha!
And then we came to a park where lots of people were flying kites and I think this tree is pretty! Looks like sakura tree =D
Walked and walked and walked and we came to this entrance. Hahahahaha! The other family's dad called up our tour guide and told him where were we and he came to find us. We had to mafan the bus driver to turn around just to pick us lost-goats. Kekekekekeke =D
It was a tiring morning but hey I get to view the city from hilltop!
Awesome!!!!!
The park is big. I think there's alot other sections which we didn't go. Hmm......anyone wana go back with me? LOL