Hello Macau!
After we bid goodbye to China, we went off to the immigration center and cross over to Macau. At Macau, we were greeted by another tour guide. But we didn't stay at Macau for long. Just a half day trip. First we went to tour around and tour guide kept telling us stories about all the casinos and food and people and life in Macau. But all I tasted was bitterness. My heart was left at China......... =(
Ok before I drown you all with my sadness, let's just continue to my short post.
This is the first place we went at Macau. It's a shop that sells all sorts of tit bits and cookies and candies. Sadly tour guide did not bring us to buy the famous Portugese tart.
Mom bought some stuff and then we left.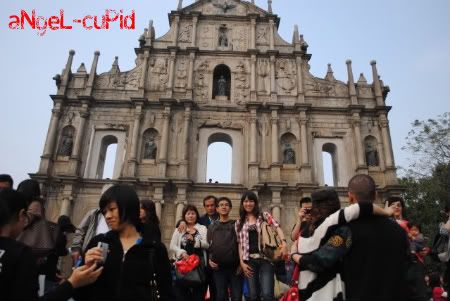 A never-to-be-missed tourist spot!
The St Paul Church!!!
It was Christmas eve and therefore the mountains of human heads. It's so hard to get a nice spot for group photo so we snap as much as possible and this was the only one presentable. We were given only 20 minutes there so can't go down the stairs also. Seriously never ever go to St Paul Church during occasions. It's just jam packed!!!
I'll blog about my trip to Venice next weekend~ Chao!