Wei Yuan Fort at Dongguan
So, how's your 2nd day of CNY so far? Hehehe =D I'm so exhausted now cos visited 8 houses since 10am. Man that's alot of eating and drinking and more eating and more drinking. How to not gain weight like this? Haha! Alright back to my post.
After we left Shenzhen, we went over to
Dongguan
for day trip. First place we went at Dongguan was to visit cannons! Yes lots and lotsa real cannons! It's a place called
Wei Yuan Fort
. Located in between Shenzhen and Guangzhou. This place used to be under Guangzhou but I don't know somehow it's not Dongguan. Ok hopefully my info doesn't lead blind goat to another blind goat. Heeee~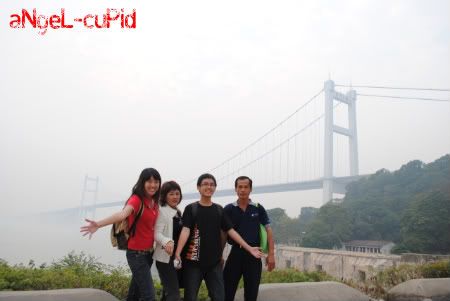 The view from the fort was awesome! See how cold the weather was? Barely see the bridge!
This is a fort where the Chinese gathered all the cannons from eons ago's wars and placed them nicely here. Of course the fort was rebuild and remake for easier viewing and walking. There are still tunnels around. Why did they have a fort here?
Alright back to history, when the Westerns wanted to conquer China, they had 2 entrances. One was at Guangzhou and the other was I don't know where. So the government of China built a fort here to defense themselves. And again I am not sure whether this info is right or wrong. Haha! Cos it's been a month since I'm back from China. Memory isn't my best friend anymore =P
After we left the place, we went for more shopping!!!!
This place at Dongguan has 3 shopping malls connecting to each other. It's something like Sungei Wang and BB Plaza. You will walk until you are not sure which mall you're at. Hehehehe =D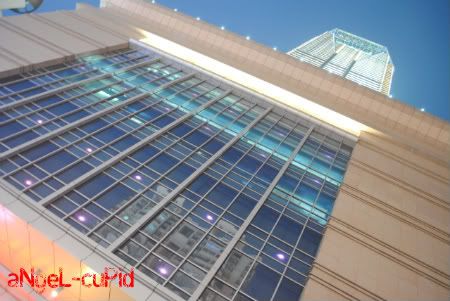 A random view outside the mall. This is a hotel next to the malls. Um....I think it's not exactly malls. It's more to shopping complex.
Then went for dinner at a restaurant nearby and we sat in bus for about an hour to get to Guangzhou.
This is the hotel at Guangzhou. Not so grand like Shenzhen's one but acceptable. Well at least there's still free wifi. Haha! Seriously I lived 3 nights without wifi and it's the toughest part to accept!!!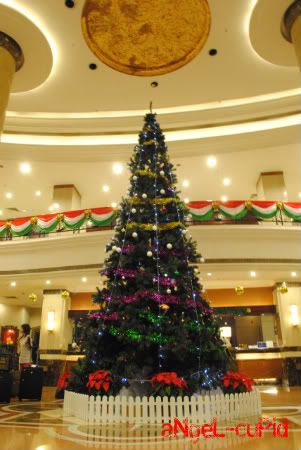 Another huge Christmas tree. Not much Christmas decor in this hotel. Nothing much to comment either.
I think I better go rest now before going to another house. I need my bed!!!!