Tour Around Hong Kong
Morning Saturday!!! It's a sunny morning~ I haven't come online for 5 days and it's already March! =O Many events and plans are around the corner. Just need to do a lil arrangement and all should be set and done =) Surprise surprise! I've got tons of surprises awaiting! Heeeee~ Ok to finish my vacation post. I know it's dragging long time and my current life update is so way behind! 3 posts left I think. Will try my best to finish it by this weekend.
*fingers crossed!*
OMG I still couldn't believe that I actually went to Hong Kong! Oh sleepless nights are so worthy! Hong Kong is like part of my dream place to be at =) Paris still stands at first place.
So, what do you know about Hong Kong? Any tourists spots? Or famous dish?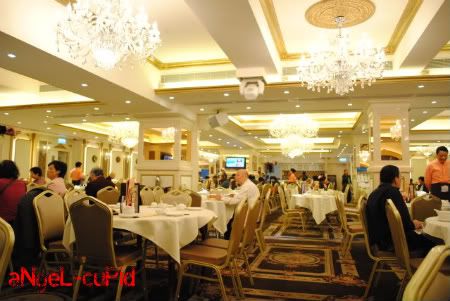 Here's where we had our breakfast at Hong Kong on Christmas day! The restaurant look so high class eh~ And yeah, we had the oh-so-famous dim sum and porridge~
Then we head down to
Victoria Bay~
Yes finally a photo with my tour guide, Kong. He just refused to take photos with us =.=
Family portrait at Victoria Bay.
IT WAS DARN COLD THAT MORNING I HAD TO PUT ON MY GLOVES!!!!!!!!
Just look at the scenery behind. So sad kan? All misty =.=
Anyone recognize this place? Hehehe =) It's a place famous for filming movies. Jackie Chan was here to shoot the movie Police Story =D
After photo sessions at Victoria Bay, we went to see
Jumbo
. The huge ship. I think. Not too sure.
Thats my pap with bro and the rest of our group. Me and mom stayed onshore cos we're too dizzy for another ferry ride. LOL
That's the Jumbo there behind us. I don't know what is it and do not want to find out. Doesn't interest me. =) Bro said it's just some boring thing to see and cannot go down from ferry =.=
After a round of ferry ride that cost I-don't-know-how-much just to see the Jumbo, we headed to a temple.
And again, I have no interest with temples cos I'm a Catholic. So I only helped my pap to snap photos.
Oh and the temple is located by a beach.
AWESOME AMAZING BEAUTIFUL CLEAN BEACH!!!!
Unlike Damai
=.= FML! And see the high condos on the hill? Those are owned by famous actors and actresses like Jackie Chan, Stephen Chow and many more! =)
Whylah I didn't get to meet Jackie Chan? Or Donnie Yen? Or Sammi Cheng? Or Andy Lau? Or the other Hong Kong leng zais??? I WANT TO MEET THEM!!!!!