MixFM & Alysha House
I'm getting obsessed with joining contest and competitions and lucky draws now =P
About 2 weeks ago, on a work day morning, as usual I tuned into MixFM right after I got into my car and then I'll tune in to the station for the whole day at office via my phone's radio. That's my only source of entertainment. I would die of boredom if I forgot to bring my phone or even the charger.
So, what happened? MixFM has this fun game every morning called
Brain Freeze
. Previously I did try calling in for other programs but it's either no one pick up my call or the line just went busy. That morning, I was chosen! Someone from the station actually picked up my call! I was already putting my hopes down and all of a sudden there's a voice coming from my phone! Of course I was already flying high!
After my details was being asked, the guy passed me to the announce,
JD and Dilly
. And yes, I got the answer correct! But sadly I was so nervous and excited that I forgot to thank them! Ugh! I kept thanking the guy instead. I think he should be Eric, the Mix Breakfast producer. He told me to wait for them to call me back regarding sending the prize over.
Weeeeeeeeeeeeeeeeeeeeee~~~
Man my memory sucks! I totally forgot when did I join this lucky draw thing organized by Alysha House. I just randomly saw the photo on Facebook one night and decided to join in. And yes again, I was lucky to be picked by a rabbit as one of the 3 lucky winners!!!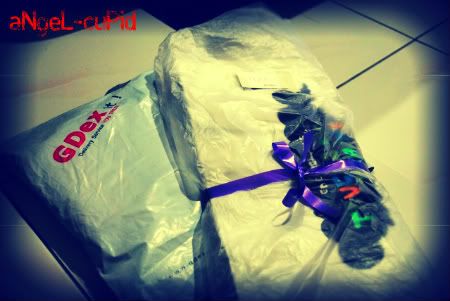 My prizes! The GDex is from MixFM. The day when I decided to pick up my prize from Alysha was also the same day GDex people actually called me up to ask whereabout is my house. You can never tell how happy I was last Thursday!!!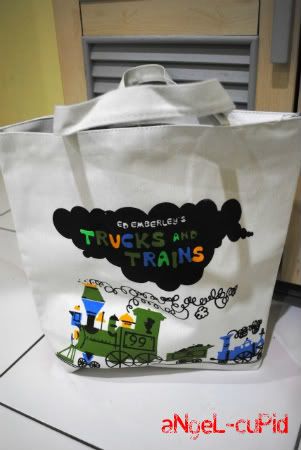 My lucky draw prize from Alysha House. Got a new shopping bag! Weeeeeeeeeeeeeee~~~ It's been so long since I last carry a bag like this! Used to bring it to school and tuition class. Haha!
And these are what I won from MixFM!!! They mentioned it's a cd hamper but did not tell me what cd will they give to me. Can't believe it! It's Bruno Mars!!! And Bon Jovi!!! And the 80s is a great gift for my mom! But oh well, since I tune into
MixFM ONLY
nowadays while I'm driving, all of these 3 cds goes into my mom's car. Hey mom's a huge fan of Bruno Mars ok! Heeee~~
THANK YOU MIXFM AND ALYSHA HOUSE!!!!