Bausch&Lomb and Garnier
Elo~ Yes I'm still alive. Have yet to reach my expiry date. I'm just busy and lazy to edit photos to blog. Way too many photos to choose from and edit them. Just got back from
Westlife
concert last Sunday. It's more than just awesome. It's the
BEST
I've been to! But too bad I can't zoom far enough to capture their face. Will talk bout that later.
I'm so exhausted these few days. I'm already down with flu and cough and had to skip swimming lesson yesterday cos it was raining also. Ugh! I have so much to blog about but without photos, no blog post is interesting so you shall wait ok?
Here's a short update:
I finally got myself a set of contact lens when I was shopping at Times Square. Optic shops were having major sales. No idea why. So I walked into a random shop and asked for contact lens. My eyesight is getting worse that I can't really see people's face when I'm shopping if I'm not wearing my specs. I dislike my new specs cos it's heavy and always slid down my nose. So I decided to get a set of contact lens to try.
The sales girl introduced this brand for me. Bausch & Lomb. Heard of it before? I do. From Milkadeal. Haha! Anyway, the actual price as you can see is RM60 for 6 pieces inside, but because they're having sales, I got it for RM50 and the girl was so nice that she actually gave me a daily contact lens and asked me to try it out first, if I'm not comfortable, can always bring it back to change.
So I did. Brought it back the day after and changed my degree. Previously she gave me 3.75 and I went dizzy for half the day =.= Now I'm using it whenever I go out at night. It feels so good to be able to see things clearly. Heeeee~
And this, needless to say, the storage solution for contact lens. I didn't know there's so many types of solutions available. Nearly got lost in that section. Man these stuff are complicated. Even more complicated than a woman. There's instructions on before you put on contact lens and after you took it out. And then there's solution for wash and for wet and for storage. Zzzzzzz.........
Since I'm the super lazy person, I bought this one which is all in one. Hahahaha! Easy what. Don't need so many bottles. Buy one enough. Save money save water save space save everything!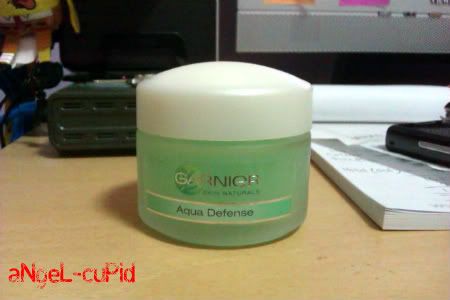 Garnier Aqua Defense! I'm sure everyone have seen the adverts on tv. My moisturizer ran out last month and I know I must get one. I was using Thalgo but then it's way too expensive to get another one, so I went to dig around Watson's face care area. Someone who is stingy like me will opt for something cheap and good. Lucky for me, Garnier was on sale and I got this moisturizer for only RM14+. Cheap leh~
Just started using it. Not sure how good is it but it's in gel form. Absorbs quite quickly onto skin. Smooth texture. Good smell. I'll update if there's any changes towards my skin. Ho ho ho~
Ok it's late and I gotta hit the sack. Medicine kills my soberness. Ta~