Ing's Convocation
2 weeks ago I flew all the way to KL just to attend my beloved cousin Ing's convo. Yes specially for her. All because she's more than a cousin to me.
My sister for life!
So I told myself that I must go for this. Booked my ticket, arranged accomodation and off I went.
Ing graduated from
Universiti Kebangsaan Malaysia
as a
Otolaryngologists.
A name super hard to remember =.= They specialized in ear, nose and throat. So yes, there goes another doctor in the family as her brother is also a doctor. Hehe =) How I wish I have half her smartness.
A group photo with her siblings and soon-to-be sister-in-law. Haha! UKM was filled with joy and laughter and of course,
people mountain people sea
. It's so hard to capture a photo without a stranger in the background. There's no empty space at all! Oh and we got her that purple roses with Chip, the smarter brother of Chip and Dale. Haha! But too bad she lost it *sad*
A day filled with happiness. No words can explain my feelings when I was standing there, in the midst of smart students. Everyone happily walking around holding flowers, toys, balloons, cameras. A day no one will ever forget.
A day to remember for the rest of their lives.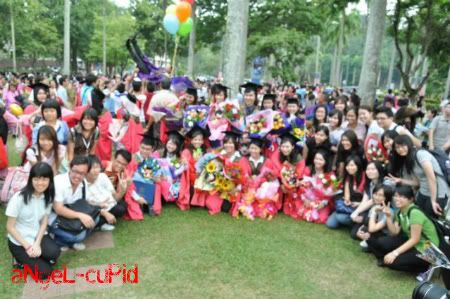 A group photo of Ing with her coursemate and some of her juniors. Practically all the seniors and juniors were all there to celebrate it with them.
The BIG day!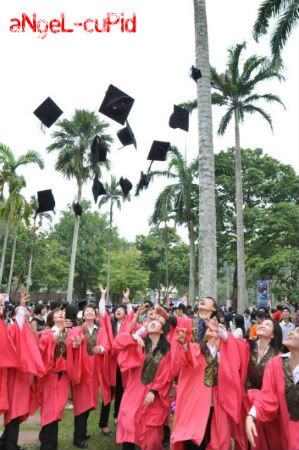 This is what I love most during graduation day! Awesome! I'm so proud of Ing. I'm really happy for her now that she'd graduated, she shall be addressed as
Doctor Tan!
=D
6 days in KL. What else did I do? Shopping of course!!! I visited
Berjaya Hills aka Colmar Tropicale
and also
iCity at Shah Alam
. Will blog separately about that later. Let's see what have I got myself this time....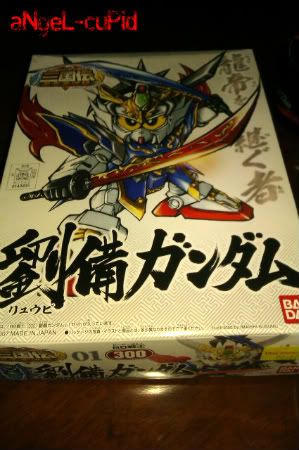 Nope this is not mine. I don't play these toys. I'm not a lil boy. But my bf is. Haha! He was so happy to found this piece selling cheap at Times Square. Irresistible, he bought it right away.
As for me, this is the sole item that made me broke but happy. Yes I'm happy to be broke. Not only broke but broken bankrupt! 4000pieces jigsaw puzzle with the picture of 12 zodiacs altogether. Man this definitely show how much I love zodiacs. Got this from
Fahrenheit88
ground floor. Try guessing how much I got this =) No prize though. Haha! I'm gonna save money and go back to that shop for the 24000pieces jigsaw puzzle! The world known second largest jigsaw puzzle! I'm so gonna get my hands onto that one day.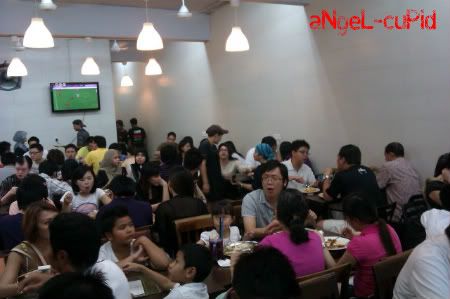 Ahhhh......this......try guessing it anyone? Hehehe I heard it's a popular place for dining. No matter what time you visit this shop, it's forever this pack. This place is called
Murni located at SS2.
Sakai like me will be 'huh where's that' but apparently it's very famous among my friends! Soul brought me and bf there for dinner, the night we visited iCity. Yes I got a driver at KL. Ho ho ho!
Our drinks. That's my Ribena lemon + longan which in the end, my longan turned purple =.= So gg.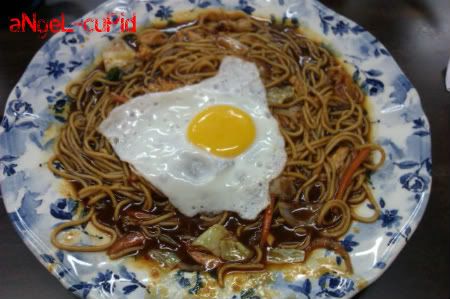 Mee Utara
as called by them.
SUPER spicy!
Probably cos I accidentally bitten the green chilli. Dumbass! I thought it was vege at first but I end up biting on a piece of chilli. Argh! That spoilt my whole meal. And mind you the portion is
HUGE!
You might want to try out this place. Tons of food for you to choose. I might wanna go back to try out their roti =)
A peek of iCity. Photo taken with my HTC cos I wanted to show mum where was I. Hehehe =) Pretty no? I fell in love with this place when I first saw the photos on Facebook. I know I must go there!
Lastly, a photo of me. Hi, long time no see! I know I'm fatter now cos I no longer exercise and eat like a whale. Thank you. But I'm trying to maintain my weight.
Will blog about other stuff maybe tomorrow. Have a fun weekend ahead!