Andrew Birthday @ McD
The week before Christmas, the same day as La Senza Pin Up Store's official opening, was our dearest little brother Andrew's birthday! I was so busy with my own stuff that I totally missed his name out of my birthday list!!! =X So sorry bro!
It was only until that day itself when I checked my Facebook while having lunch at Xian Ding Wei that I realized
OMG
it was Dru's birthday!!! Immediately without hesitation I called him up and booked him for the night. Or at least an hour to two cos I know he has got lots of appointment. Hehe =) Was too last minute to do any planning so I decided just to head to McD for a different feeling. Back to the old days!
Mass messaged everyone that I can think of and had everyone head there for supper. Rushed off to Taka Cake House to get him an American choc cake. Yum! Lucky for me, everyone attended! Yeehaa! Ok maybe a few who was forgivably busy. But at least I'm satisfied with the crowd, again. =)
The usual suspects these days. Oh hello Gab! Camera alert!!! =D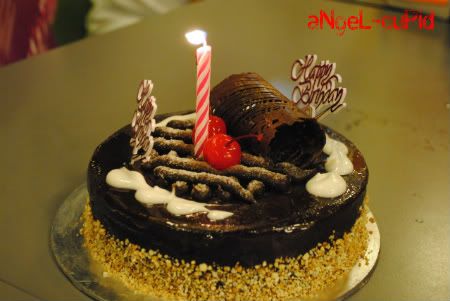 The cake. Boy I'm glad Taka always prepared few cakes for sale. Else I'm gonna have to get layered cakes instead. Haha!
The happy birthday boy! Youngest among us all. Another Sagi baby~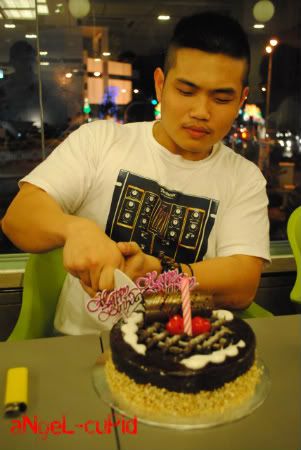 Uuuuuggggghhhhhhhhhhh
as he claimed that the cake was too hard to slice =.=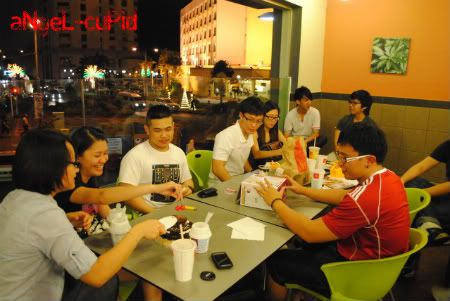 So he decided to ask Evelyn for help. Haha! Why does it seems like everyone is eyeing the cherries?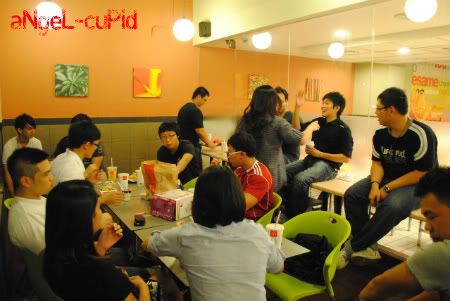 And some debate happened behind us. Hmm.......Debating whether or not to take the cherries guys?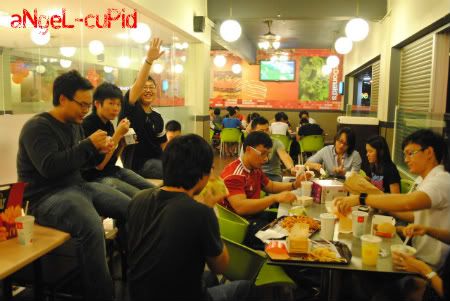 No group photos. Just random snaps from me. Ah I seriously need to print out everyone's birthdate onto a piece of paper and stick onto my wardrobe maybe. That way I can see whose birthday is coming soon =.= Yeah maybe I really should do that.
Til then~