Baby Elaine
Let's skip my CNY Day 4 and hop over to Day 5. Haha! Cos Day 4 was only about friends coming over to my house, then me and family went to Bako for lunch and then went up to Qing Shan. Night time just drinks with friends at Wave Cafe. That's all. No visiting for me =) Therefore no photo taken. Nyek!
Day 5. Gathering with old buddies at Ms Chan's house. Our annual gathering just for the sake of chicken wings! Yes, that awesome chicken wings cooked by Ms Chan's husband. And again I forgot to take photo cos I was way busy with baby Elaine!
Who is she?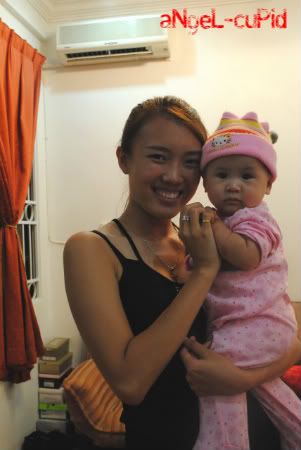 That chubby adorable girl belongs to my ex-colleague, Sze Sze. I did posted about her marriage 2 years ago. Now her daughter is already 7 months old! How fast time flies kan?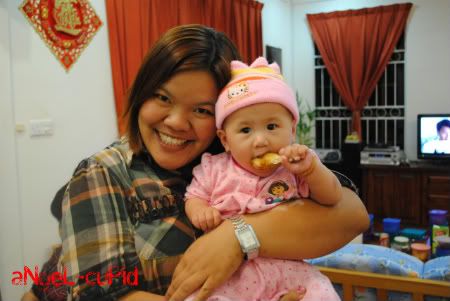 For a 7 months old baby, she is definitely a huge eater! The thing about her is that, she doesn't like it when other people carry her except for her own parents. How did we manage to get her into our hands? With the temptation of food! =D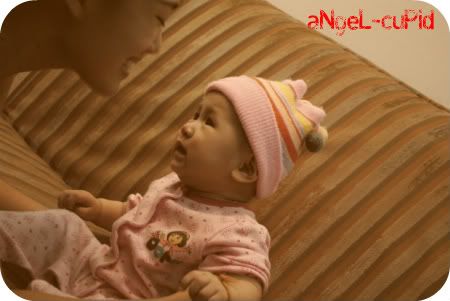 That's the face of her about to cry. Hahaha! Yep we all busied ourselves that whole night just to make sure she doesn't cry. Oh tedah! =P~
Coming up next, Chap Goh Meh! Last day of CNY =) Gotta rush all the post before February ends. And when February ends, it means my vacation is here! Lalala~