Chinese New Year Day 3
Ah time for CNY Day 3 post. Got lazy for the past few days and then mood swing came so there goes my blog-less days. Right. What did I do on Day 3? Visiting of course!!! It's yet another round of ST3P Family visiting. I wasn't planning for any visiting this year because many had left Kuching. But what I did not expect was Edmund to be back home!!!
Boy I couldn't be more happy to hear him back home for CNY. The moment I got his message, I had to read twice to check that I did not read wrong. Haha! So on immediate, Day 1 noon time I mass message everyone I can think of and start my planning. But this year we didn't head to many house as a few were not home at that time. So had to skip a few.
First house was of course to Edmund's house. No photos were taken cos everyone came at a different time. And a few had to go to temple and wasn't able to make it. Next was to Ing Liang's house.
What's happening? The minute we stepped into Liang's house, we hear noises!
We hear woof woof woof!!!
And who is she that Evelyn is checking out? Er ok that sounded wrong.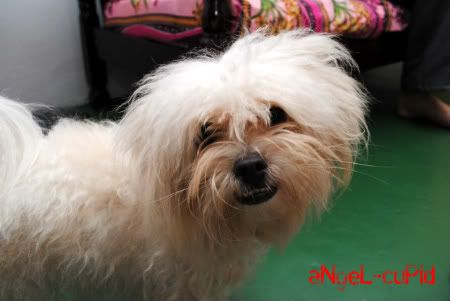 Say hello to Angel! No that's not me. That's just a cute furry fussy noisy hyper active dog that has got the same name as me =.= I felt so wrong calling her.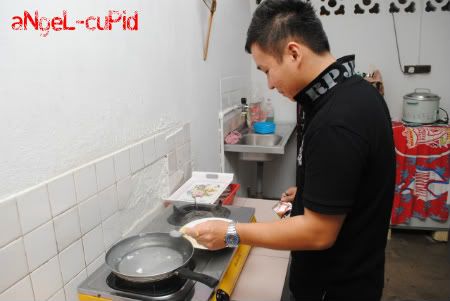 This year Joe's house wasn't open so there's no food for lunch =( But that didn't bring my day down. Because I should be awesomely proud that Liang cooked Maggi for me for the first time ever!!! =D Yes I'm loved by friends! Hahahaha!
With eggs some more ahhhhh!!!! That's what brothers are for!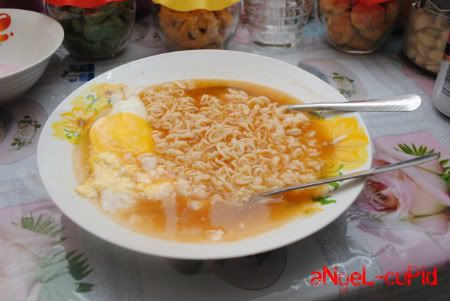 *slurps*
Maggi with curry flavour plus eggs! Superb lunch!
Lastly, group photo is a must when everyone's around =)
Cheers people!
Message to Edmund, Andrew, Thalia and many others:
PLEASE COME BACK FOR CHINESE NEW YEAR EVERY SINGLE YEAR!!! What is CNY without family? =)
Much love to all of you!