Valentines Day
Man Valentines was exactly 2 weeks ago! Haha! Yes I got *ahem* sort of tease by bf that my blog post are all outdated. He was asking where's my Valentines day post =.= I know lah. I'm always writing outdated post but hey at least I didn't drag til next month =D So let me post up my lovey dovey Valentines date. If you feel like puking, please be kind and leave so you won't dirty your own keyboard =P
So what was your Valentines gift?
I never really prepare any gift for my bf so yes, same goes to this year. I came empty handed =D Everyday can be Valentines what. So long as I feel like giving, then I'll buy =)
I was anticipating for Valentines to arrive cos I'm very very curious at what Kent will do for me. He didn't give a hint. I only know that dinner is confirm and that's it. It's our first Valentines together so yes, throughout the whole day at work, I kept waiting for any sign of him appearing at my doorstep or any sweet msg for the night's info.
But none!
It was only until
3.30pm
that my colleague intercom me and said there's someone at my office to deliver something for me. I was busy issuing cheques so I didn't think much. Just went out and saw a postman from Poslaju standing there.
I saw this box on the table. My mind was still at those cheques so I didn't bother reading it and just signed the slip. But the funny thing is that, my name written was not my actual name. The person who sent this to me wrote Angel Pep. Hahaha! And then my mind start to wander off. I'm not familiar with the sender. Then I read again. My phone number. It's my Maxis number.
On immediate, I know, it's from my beloved bf
=D
Just so you know, I rarely give out my Maxis number to people and it made me wonder who actually knows my office address. Hahaha! Somehow few nights back, bf tricked me to give him my office address. Dang! I didn't even suspect the bit cos he's smart at twisting the question.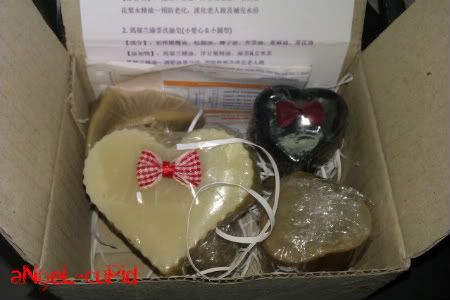 Surprise surprise! What a sweet way to send a gift =)
Thank you darling!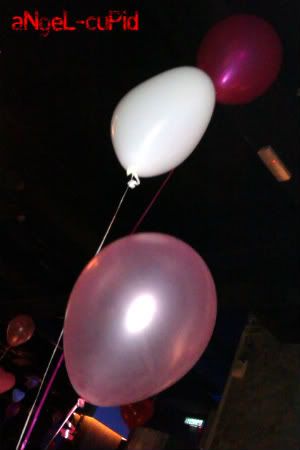 As the sun sets, it's time for the candlelight dinner =) I have no idea where he's taking me. Again, blindly follow. This man of mine loves to make me blindly follow him to wherever he's taking me. A sense of excitement!
Alfresco
was where we went. A new fine dining place just behind Hock Lee Centre. It's located at Hock Lee Centre's building itself but the entrance is at the back where the parking spaces are. It wasn't brightly lit so we had a hard time trying to locate the place. He managed to secure a seat for us many thanks to his friend who is also one of the owner of Alfresco =)
Feast time!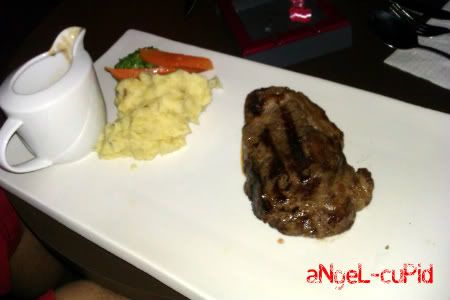 My beef steak! Yum!!! =D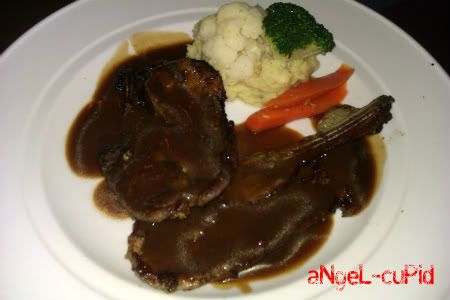 And the ultra-yummylicious lamb chop! Now this, I must say,
TWO THUMBS UP!!!
I'm gonna go back for more of lamb chop! =D Even looking at this photo now makes me recall back how the lamb taste like
*slurps~*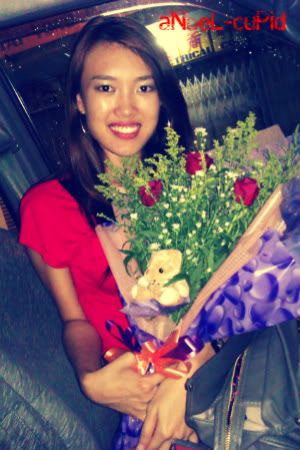 Of course, what's a Valentines Day without roses right?
My very first bouquet of beautiful red roses!
Roses made me happy! =D
Thank you darling for the gift, the dinner and the roses. Our first Valentines is needless to say, a very memorable one =)
You walked into my life in an unexpected event. That first sight, that first chat, that first car ride, that first dinner, that first kiss. And now this first Valentines. Together hand in hand, we shall walk our paths together, two paths into one.
只要你情我愿,我们就能一起实现我们的梦想。。。
Happy Valentines Day my Love~