New World Park
It's
fooooooooooooooooooooooooooooooooooooooooood
time! =D On 2nd day's night we finally had some awesome food at Penang. Many thanks to Edmund who walked all the way from his apartment to our hotel and I must write this, under the rain! Haha! It rained every single night when we were there!
Anyway, while waiting for Edmund to come over our hotel, we explored into a new place just a block away from our hotel. It's a new place for leisure, shopping and eatery. It's called New World Park.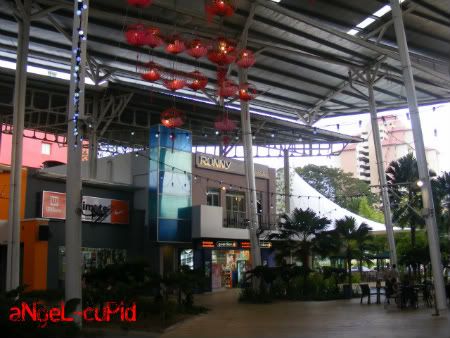 There's Guardian pharmacy, boutiques, fine dining place, a centre court and a food court. A small place but good enough to spend time. There's Ipoh Town too. Again, why Kuching no such place? Haha! =P
When we were there, a group of ladies were doing aerobic dance! It's kinda cool. They have an instructor at the centre stage and with music blasting out loud, they all gather to exercise. A very healthy thing to do! =D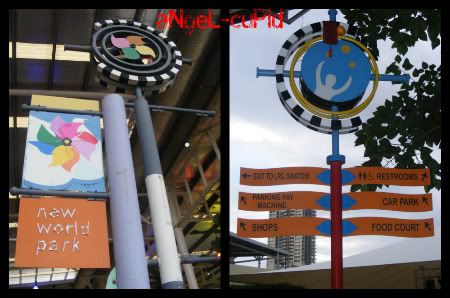 New World Park sign and the direction sign at the centre court.
This is the food court. There's about 20 lots. You can find whatever that you wanna eat here. Ok except kueh chap and kolo mee and Sarawak laksa. Hahaha! =P Maybe I should open one stall and sell laksa. My business should be good eh. Hehe =D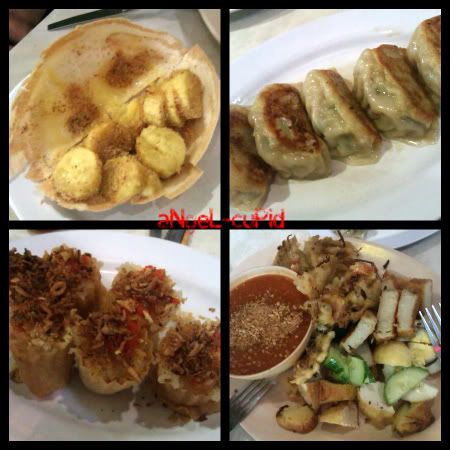 Here's our dinner. We didn't want to eat too full because we were waiting for the rain to stop so that we can walk over to a nearby place for that awesome char kueh teow.
From top: Banana pancake (It's actually apam balik with banana inside. Quite nice), steam dumplings, Pai Tee and lok lok rojak.
After our dinner, the rain didn't stop but was drizzling. On the first night we went hunting for a cap for Kent cos he didn't bring his. We didn't wanna buy umbrella cos I know we can't bring umbrella onboard and we're not checking in our luggage so it will be a waste. But we were so dumb that we forgot about Edmund! We could give him the umbrella after we leave Penang! So that night after dinner, we head over to Guardian and bought an umbrella. With our proud orange color umbrella, we walked under the rain in search for good food!
Jalan Rangoon off Jalan Macalister.
Edmund highly recommended us the char kueh teow here.
Our supper. Char kueh teow and belacan fried chicken. The portion of the char kueh teow is rather small and it costs
RM3.50 per plate.
I would say it's worth it. I'm not a huge fan of char kueh teow but I think this one's nice =) As for the belacan fried chicken, sorry to say, no difference with normal fried chicken. KFC beats that all!
Last but not least, this is a
MUST TRY!
Kopi peng!
The best I've ever tasted! Beats all Starbucks coffee!
Super awesome!
Man I wanted to tapao this back for my mom but I didn't do it. Argh! Next time I'm gonna just bring my mom there for this glass of supertastylicious kopi peng! =D Now I'm missing this coffee. Huuuuuuuuuuuuuuuuuuuuu~~~
EDMUND! Tapao for me now!!!!