RWMF 2012 Ticket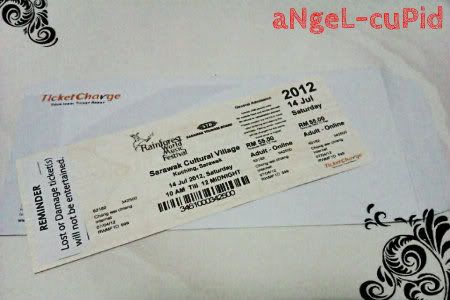 I finally received my very first
Rainforest World Music Festival
tickets! Believe me, after so many years, this is my first time I'm gonna be there. Super excited! I finally found someone who will go with me.
Weeeeeeeeeeeeeeeee~~~
I made the purchase online via
Ticket Charge
cos they were having promotion.
It's only RM55 for adults ticket.
There's service charges and all that but still, it's not expensive. Paid RM129 for 2 tickets for Saturday entry.
Hmm......why do I have a feeling that I'm not spreading my excitement through this post? What's up with me anyway. Ah forget it. Now I'm dreading for May to pass by fast so that June will come faster cos I get to have 2 getaways and then July will be my very virgin experience to the world's awesome party ever!!!
Oh by the way, it's super easy to access to Ticket Charge. You don't need to register
(I was a noob!)
. All you need is just click purchase the tickets, fill in all your details, make your payment and then you will receive an email regarding your purchase and your password into Ticket Charge. So don't fuss over logging in before your purchase. It's safe. Trust it! =)
Right. What else do I need to mention here? Yes I need to pray. Pray that May goes by fast. As fast as possible. Cos bf is gonna be extra busy and that only means I'm gonna be left alone =( Boo!
FLY MAY FLY!!!!