Shopping Is Happiness
There was a phrase that says
"Whoever that said money can't buy happiness, doesn't know where to shop!"
Well, I kinda agree and disagree. Haha! Of course, pure happiness such as love can't be bought with money. But then again, there are just some types of happiness can be bought with money. Such as
SHOPPING!
Last weekend I shopped almost all over Kuching. Friday night I went for grocery shopping with mom at the newly opened Everrise at 4th Mile. It was renovated til so nice! The lights were so bright and the place feels much bigger though it's actually the same size. After mom bought her stuff, we went opposite, Boulevard.
I wanted to look for shoes and my computer mouse. And since mom has yet to see Boulevard's new phase, I suggested us to shop there while waiting for time to pick my bro. There, I managed to find myself a normal looking mouse. Friends all told me Logitech is good. Oh well, since the price is reasonable, I got myself one at Boulevard IT Store. But luck wasn't on my shoes side. =(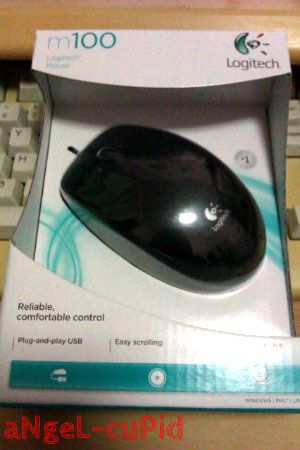 RM19 Logitech mouse.
I just need a very normal one. No gaming use. Don't need the laser high tech type also. Just optical will do. Hehe =)
On Saturday, I went to Spring right after work. Shoes hunt again. Nose and Vincci. Though the sales were huge but nothing for me =( It's either no nice shoes or my size is no longer available. Sigh.......Tough luck!
On Sunday, after dropping my bro at his friend's house as usual. I went off to airport. Yes you heard me right.
Airport!
Goodness, the departure hall was so packed!!! At that moment, I only had one wish, to get a one way ticket out to anywhere. Haha! If only I can do that =) Maybe I would. One day I shall try.
Anyway, previously I did saw a few nice pairs of flats at airport. But this time when I went, tough luck again. The nice ones were sold out. The rest, kinda pricey =( After lingering around for few more minutes, I went off. Couldn't bear seeing people hugging all around at departure gate. Hate that moment.
Off I went to Sentosa. Wahahahaha! That was my first time driving alone to 7th mile. I remember there's a shoes shop inside the Unaco building with nice shoes. So I went to have a look. And found myself inside SOS. So apparently, that shoes shop inside Unaco building is SOS. Nice. The sales was pretty good too. Was very tempted to get myself a pair of heels but luckily I did not. Managed to secure myself a nice pair of ballet flats. Love!
Later, I went off to nearby shop, IOI Store. The word SALES written hugely on the banner sure attracts me alot. I went in and came out empty handed. Why? The nice pair of sport shoes that I saw, no other size available. Sigh....And I was left with RM60 in my wallet. The others without sales, needless to say, pricey.
So I left with disappointment. I was thinking where should I go next. I have 3 destinations. To MJC and look around the many shoes shop there. Or to Lea Centre at Hopoh. Or......to look for food first =P In the end, I decided to give someone a surprise and headed over to 4th Mile Everrise. Ho ho ho!
And it turned out, my surprise cost me RM50. Hahaha! Thanks to that someone, I managed to secure myself a pair of sport shoes at Bata =) But I'm happy. At the end of the day, I went home happily with 2 pairs of shoes.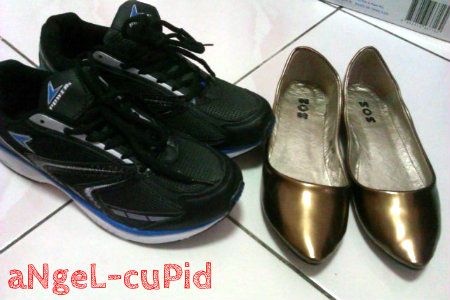 Mission accomplished!