A Different Experience at KL
Oh boy! The end of October is nearing and November is coming! Nooooooooooooo!!! But then again, I'm looking forward to December cos it's gonna be my favourite month of all. Hehe =) Christmas bells ringing~
Anyhoo~ 28th of September, I took the jet out and escaped from this reality that I've been living everyday. Off I went across the sea to mi amore~ Ok so it's not a love story but yeah it's just a great escapade!
Reached airport around 11am and waited for my driver for nearly 2 hours. Zzzzz..........First thing was of course to lunch! Dennis picked me up from LCCT and we went to Pavilion to meet Wui Pin. He's flying back that night and we kinda squeezed the schedule for him to meet with Dennis.
Hunger attack! I went straight to the food before even bother to text Wui Pin that we already reached Pavilion. Round and round and round. It was just my second time at Pavilion's food court.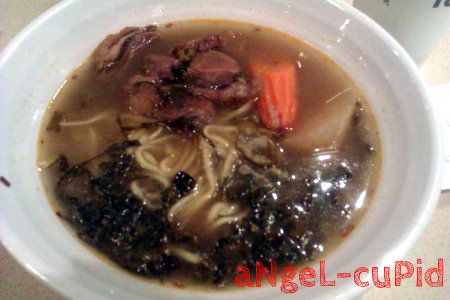 Ended up with Taiwan beef noodle. Nothing special but the beef are tender and nice =)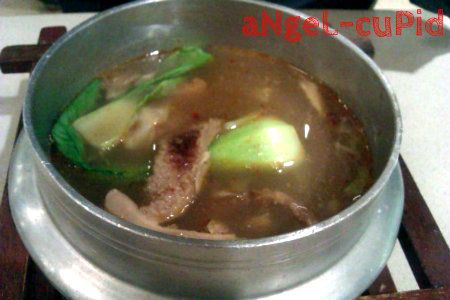 Dennis had another type of beef noodle as well. With special stuff like tendons and sorts.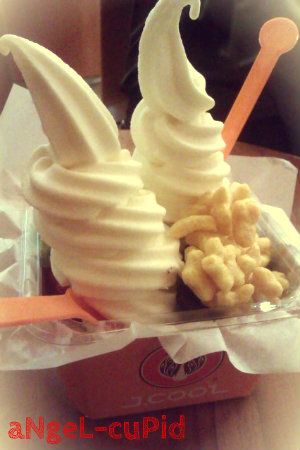 Later Wui Pin treat us to a nice set of yogurt at J.Co Donut. I didn't know they have yogurt too. Always thought there's only donuts. It was near to 4pm that we had to rush off cos work calls. So we rush and rush and rush and beat the traffic. I just tagged along in the car going all over KL and Selangor.
Finally by evening he managed to settle all his work and we headed over to the hotel.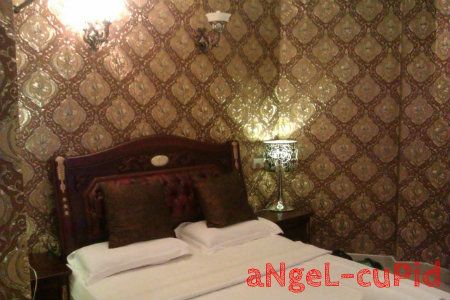 Hotel de Art. Located at Shah Alam. I don't know which section. It's a really nice hotel. I love their art. Each and every room has different type of decorations. Ours look like Golden Egypt. Hahaha!
Surprise surprise! I love their bathroom! Not cos of the shower or facilities but the tiles they used. Chilli red!!! This just gave me the idea of having red tiles in my bathroom next time =P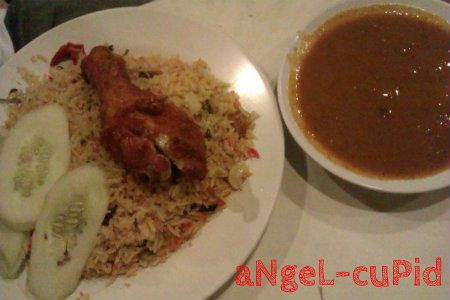 Dinner time! We were so exhausted and starving. No this is not mine. I just forgot to take pic of my Hokkien mee cos I was starving like crazy already. After dinner it's time for both of us to rest. One exhausted due to jetlagged and another exhausted cos of the massive driving.
Next morning, work calls again. Sigh.........This time it's really horrible! Explain later.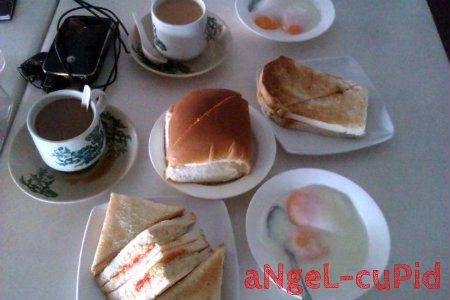 Breakfast down at Hailam Kopitiam. Love the breakfast set! Although yeah I had to order more but still, I always love to have soft boiled eggs, sandwiches and a good cuppa coffee.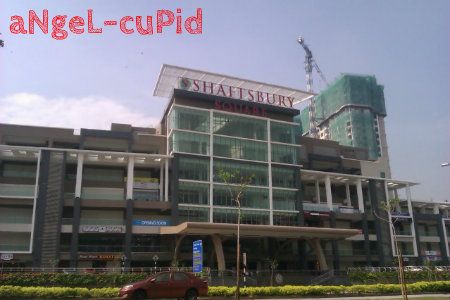 After breakfast, it's a long journey to Cyberjaya again. If I didn't remember wrongly, we reached there around 10.30am and I went opposite to Shaftsbury Square to get more coffee and of course, to waste my time there. Guess how much time I spent?
Oh Shaftsbury Square is rather empty. There's lots of cafe like Starbucks, O'Brien and other lil cafe, banks are available there and a few more grocery stores too. The place is still partly under construction so it's quite empty. Nothing much.
Since Starbucks only opens at 11am, I headed over to O'Briens for coffee and for the sake of free Wifi, I stayed there for hours! Only having my loyal phone and a good book with me. I was there for whole 4 hours!!! I sat until my butt was flat! But really, thank God I have my book with me and Wifi really helps, else I'll die of boredom!
We were due to meet with the author of the book Fuel, Jeremy Chin. I had Dennis arranged a meet up with him so that I can get him to autograph my book. And surely, my darling dear is such sweetie he got that busy man off his schedule for a dinner with us!
Dinner was set at Bangsar Village. A diner which I forgot the name =.=''' This is my lamb burger set. The patty is really round! It was just ok lor. No comment about it.
Dennis had beef burger set. Looks yummy thanks to the melting cheese. Ugh! Now I'm hungry again!
There. Jeremy Chin who wrote the great book called Fuel. Story of how a boy became a marathon runner and almost lost his own life at some point, found his love and in the end.............I shall not tell what the ending is. Hehe =) It's a really good book. Runners should get one. Somehow somewhere this book actually hit my mind and tell me that I should pick up running too =P Should I? Hee~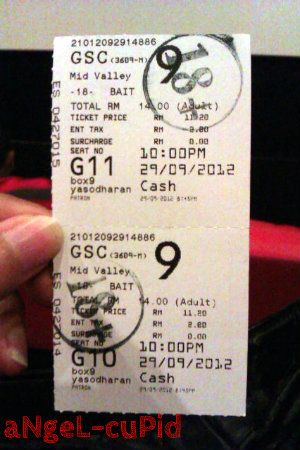 After dinner, we had no place to go and since Midvalley is just 5 minutes away, we both randomly went there for a movie. It was my first time entering a cineplex in KL. Also my first time stepping into Golden Screen Cinema. Not bad. The seats are much more comfy than MBO's. Oops! =P
Anyway, the day passed just like that. Seriously, that was my first time waited for someone for 4 hours!!! He really leveled up my patience limit. Hahaha! I shall continue about the last day in my next post. My eyes are closing soon. Good Lord I'm so exhausted! I think I'll just sleep early tonight. Zzzzzzzzzz..............Nights!