International Youth Cultural Conference (IYCC) Kuching 2012
Dated 30th November 2012. A date I will remember for the rest of my life. An event I will cherish alot.
Why?
Because it was my first time getting up on stage as a co-host with Cyril for an international event!
I must say, all this couldn't be working without the support from Cyril aka my boss! Hehehe =P Without him giving me this opportunity, I wouldn't be having so much fun before the event. Remember my video I posted long time ago? Yep. That video was made for this event. I know I know. I'm so backdated now. Hehe =D
30th Nov is actually the last day for this conference. It lasted for whole 3 days at Sarawak Cultural Village. With tons of workshops and activities, this conference aim to bring all our youths closer and get to know each other's culture. It's a good event to know more friends and open up your mind. And on this last night, it's the farewell party. So me and Cyril came in just to heat up the event!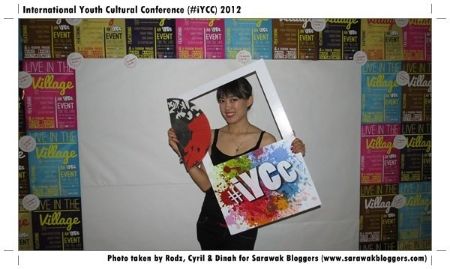 I followed Cyril's car to Cultural Village in the morning and stayed there for the rest of the day. Mingled around. Erm...more like disturbing around. Got myself a short nap and dressed up for the night~
Cyril came back near evening and there we go. Both dressed up in traditional costumes. It was also my first time dressed in a cheongsam. Hehe =D Got myself a super red ones. Miko's mom helped me adjust a lil on the waist and I actually changed the design. Hiakz! And Cyril looking handsome in his baju Melayu.
There always must be a wacky shot! Alright. Time for the event.
The night started with musics from
Asbun Percussion.
These guys were actually picked up from Waterfront. They perform there on every weekends. Go get a stroll next weekend and you'll see people gathering around them for their awesome music!
Next was the cultural fashion parade. We have representatives from each and every country that joined this event. Vietnam, Indonesia, Brunei, Singapore, China, United States, Turkey and many more others! But of course, who's to miss out Malaysia!
These are the representative of our neighbour, Brunei!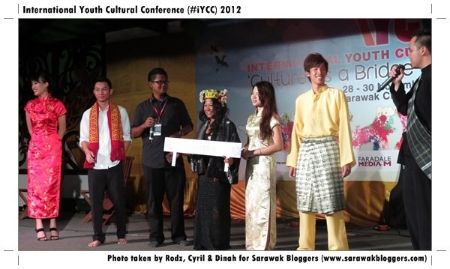 And yes, your eyes were right. These are us Malaysian! Represented by none other than Zee Avi herself! I guess everyone stayed til the last night for her appearance eh. Hehe =) A sweet local singer from Sarawak. Proud to be a Sarawakian!
And then we went back to the performance. This man is
Dr Sanchez.
He's from the land of Kiwis~ New Zealand! Had travelled to many places with his guitar as his backpack.
The party start to warm up a little. Everyone slowly got onto their feet and tap tap tap~
Next up was another great performance by the familiar faces,
Sonar Tribal!
Oh I love them much!!! =D Oops! Hey but they're
REALLY
good!!!
Last performance of the night was by
Soul Dance.
They sure did got everyone dancing around. I myself can't resist more. Went to change from my cheongsam to a more comfortable jeans and there I went, dancing around with the rest~
The party went on with music blast by
DJ Cliff de Saint!
Oh the night was still so young!!!
This event was definitely one of a kind. I really enjoyed myself that night. First time on stage as emcee, yes I was nervous and at times found myself being a lil not so spontaneous. But I'm so glad I had Cyril as my partner that night. I learnt alot from him and I still have so much more to learn! Thank you boss! =D
And of course, a big thank you to Faradale M Media and 4CG crews for being supportive. Without you guys, I wouldn't have this great experience in my life! Thank you!
p/s: All photos were as stated, taken by Rodz, Cyril and Dinah for Sarawak Bloggers and I just had to *ahem* borrow them cos I didn't snap any photo that night. Hehehe =) Boss jangan marah ya~