Giant Sharwarma Attack!
Last weekend I was at Plaza Merdeka to witness a new challenge in Kuching. Everyone knows Kuching is one of the food paradise. We've tons of yummy local foods. And we Kuchingite are just way too creative when it comes to
"modifying"
our food. The other night I was bringing friends from overseas to our very dear Peach Garden at Jalan Song and they were so surprised by our You Tiao topped with peanut butter and even blueberry jam! Yes, we are there to go to that extend of making our food more and more delicious.
So,
The Raintree Cafe
, a new cafe located in Plaza Merdeka which is the sub cafe of BCCK's Raintree Cafe came up with a challenging idea to modify their food. Nope. They did not do anything to the roast lamb so no worries. Hehe =) It's their Sharwarma that I'm talking about. They pumped their Sharwarma into
GIANT
size!!! Not only did they challenged their own chef, they challenged us as well. They are throwing everyone a challenge to finish their giant Sharwarma under
30 minutes
!
I love their Sharwarma!
It's really juicy and filling. But a huge one for me to finish in 30 minutes? That is so no way! But I know I must witness this very first challenge =D
The chefs with 2 contestants who registered for the challenge. Just look at how gigantic the Sharwarmas are! I think I'll be full by just finishing a quarter of that giant Sharwarma =P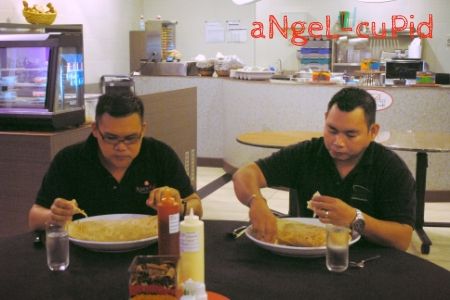 And the competition starts!
Go go go!!!
Oh they actually limit to 3 contestants per challenge. The challenge will be going on for one whole month of
September
and it's only on weekends! Well, that's until they come up with another gigantic idea =P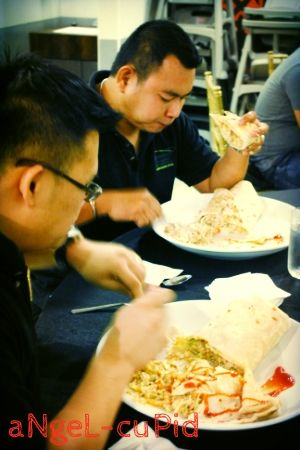 Look at how concentrate they are. Luckily these guys have yet to lunch. Else who's gonna finish that huge Sharwarma with so much fillings???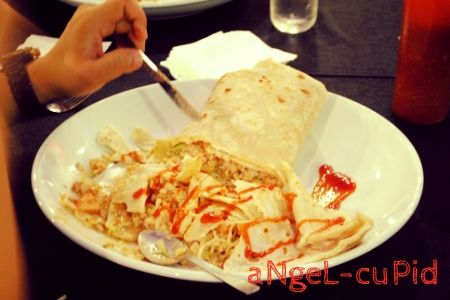 Just look at how much chicken meat and veges are stuffed inside the Sharwarma! This photo was taken at about 10 minutes from the starting time. This huge Sharwarma will cost you
RM50
if you can't finish it on time. Well, RM50 for such delicious Sharwarma, I will pay for it but provided someone share the other half with me =D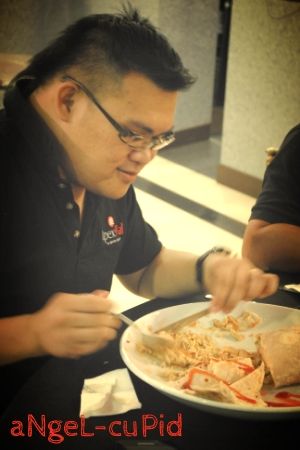 This gentleman is really gentle. I mean, who eats a Sharwarma with fork and knife? It's like eating burger with fork and knife. Eh wait, sometimes I do too. Oops! =P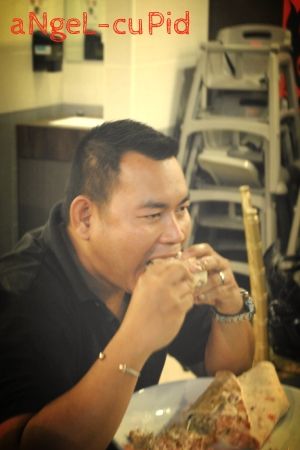 Easy bro! One huge bite at a time. He seems to enjoy his Sharwarma in his own world and doesn't bother who's looking at how he feast =D
Haha! We all can only laugh when we saw them raised their napkins. At 25th minutes, they both agreed to give up together. Hahaha!!! See! Even they can't finish that huge Sharwarma, what's more to say if it's me??? But really, I would love to pay for that giant Sharwarma if I can share it. Hmm...not sure if I'm able to have it if I were to dine there.
So.................................
Up for the challenge?
Challenge your diet?
Or challenge your friend?
Come on up!
It's happening this weekend again!
ONLY RM50
for that huge Sharwarma!!! Kuching needs a hero! Head over to Plaza Merdeka tomorrow morning at about
11am
and get yourself registered. Ring me up and I'll be very glad to help be your photographer or even videographer.
SEE YA!!!